<< Back
produce
Posted 7/24/2014 4:45pm by Ben Wenk.
If you're reading this update, a grocery store near you recently pulled California peaches off its shelves because of a recent lysteria contamination.
Should local Giants, Aldis, Trader Joes, Costco's etc. be stocking peaches, plums etc from California? Well, if people buy them, they'll continue to sell them. A better question, should these stores stock peaches while local products are in season? Well... again, California peaches will always be cheaper because they've got the economy of scale on their side. A lot of people are looking to buy cheap peaches. Georgia, South Carolina the same - they can grow peaches cheaper in these places than we can. When people want cheap fruits and vegetables, these grocery stores will sell them. However, lysteria is no laughing matter so that could start to make an impact on people's buying decisions as well.
So, there's a reason that cheap food is so inexpensive and this week's recall is a prime example of this. But what can we do to lower the cost of food? Well, as French grocer Intermarché has done in this video(embedded below), we can reduce food waste. The third largest chain of groceries in food-crazed France introduced the concept of "inglorious fruits and vegetables" - oddball and somewhat ugly produce purchased directly from local growers and offered to the public at a discount. The idea was a huge hit and produced measurable impacts on their receipts AND in reducing food waste. How cool it would be to see these super markets replace the shelf space one occupied by recalled California peaches with local, "inglorious" fruits and vegetables? That sounds like cheap(er), healthy, safe eating that we can all get behind.
Posted 7/12/2011 8:56am by Ben Wenk.
Thank you all for the awesome feedback on our peaches so far this year! We've been tough to live with sometimes, with all of your kind words - we're trying not to let it get to our heads. And the pictures have been super! Here's a week's worth of the pretty pictures our customers have sent us with their market haul and, in some cases, the impressive things folks have done with our produce! Enjoy and thank you so much - all of you!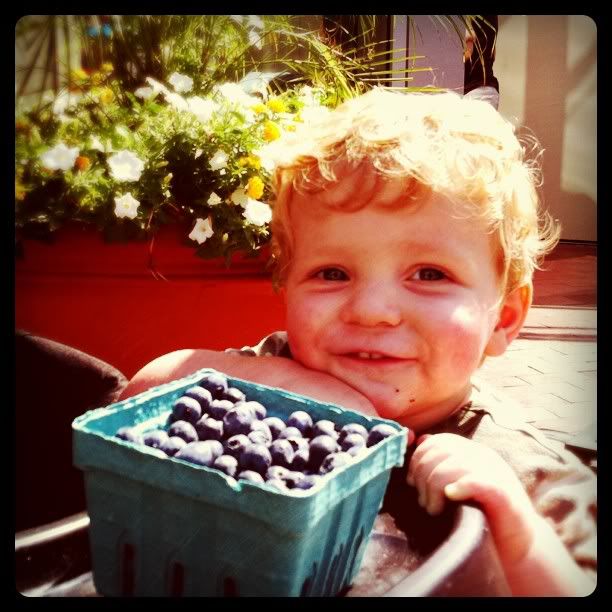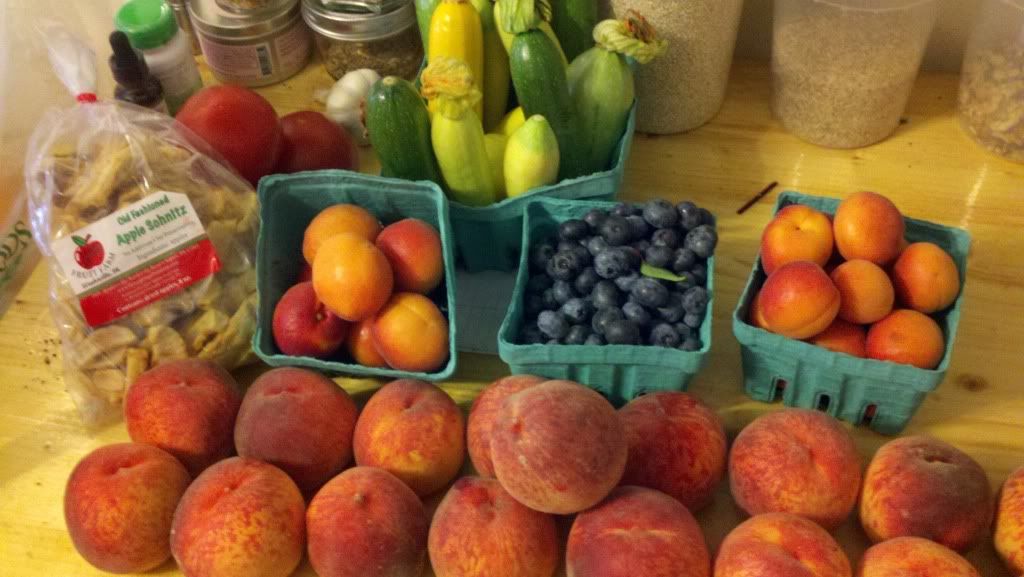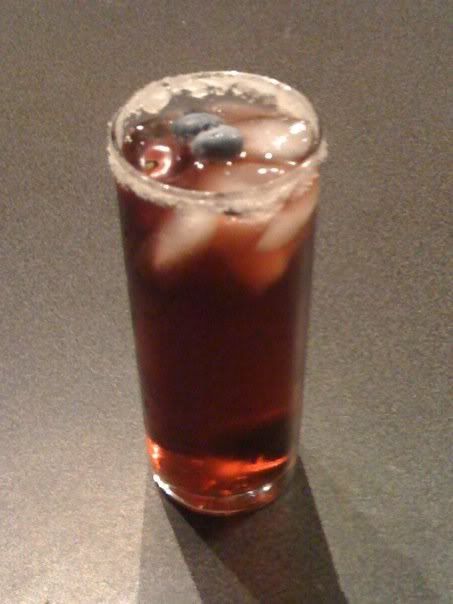 Posted 7/15/2009 3:38pm by Ben Wenk.
Choosing the Right Peach At Market
We're often asked how to choose good peaches at our farmers markets, so I thought I'd whip up an easy beginner's guide. Just remember, if all else fails, ask one of the experts helping at our stand that day! Before we address the task head on, let's address a few rules up front. N.B. This guide also applies to choosing nectarines, plums, apricots, and stone fruit in general.
General Rule #1 - Out of respect for our family who grew the fruit, our skilled crew who harvested the fruit in the heat of summer without bruising it, and the customers who will shop after you, please be gentle! As you'll see, a delicate squeeze is important in choosing good peaches, but tree ripened peaches are to be handled with the same caution as eggs.
General Rule #2 - Plan ahead! As you'll see, knowing the quantity of peaches you'd like and not only "how" but "when" you'll use them will go a long way to insure you'll enjoy the fruit we've worked so hard to grow.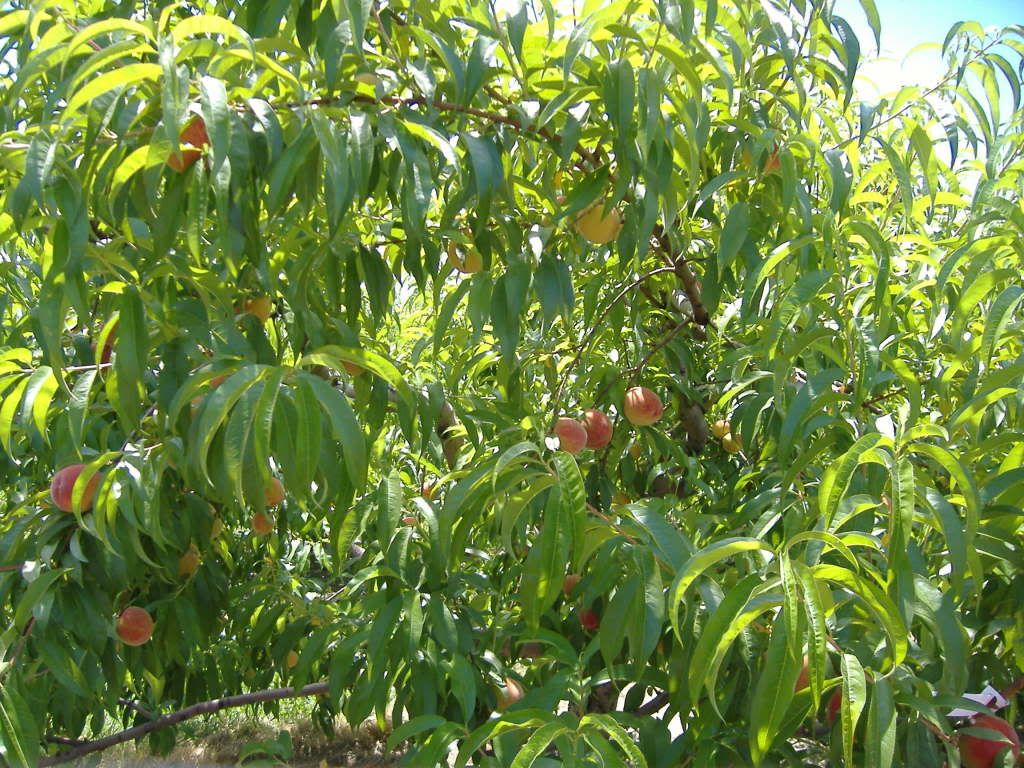 Alrighty, let's choose some peaches! First things first, do you prefer white or yellow peaches? This always a point of contention - the factions are often fiercely divided. White peaches are "sub acid", meaning they will lack some of that peachy "bite". It's often believed that white peaches are sweeter while science tells us otherwise - the lack of acid makes the sugars stand out while the amount of sugar is often identical for yellow and white peaches. Yellow peaches are your traditional peach flavor, the white peaches taste like those same yellow peaches dipped in the sugar bowl. White peaches have a red background color while yellow peaches have a yellow background and a red blush. They should be clearly marked on our display to tell the difference - try 'em both and you can decided which is best for you!
When choosing peaches, ask yourself "how many do I want" and "do I want them now or later (or both)"? All of our peaches are picked ripe. Firm fruit is not "green" fruit or unmatured. Peaches must be picked "firm ripe" just to survive the short trip from our orchard to your farmers market. Our goal is to provide some peaches that are "finger ripe" (a little soft) and "firm ripe" in every crate so you can pick three peaches to eat today and a few that will ripen on your counter during the week. Very gently, hold a peach between your thumb and middle finger and apply just a tiny bit of pressure. If you can feel the flesh move, it's "finger ripe", eat today or tomorrow. Flesh still firm? Don't squeeze it any longer, first of all. Second, remember that it is "firm ripe", not "green" and it will come to life after as few as 2 days on the counter. If you know how many peaches you and your friends and family can eat in a week, plan accordingly by choosing a few "finger ripe" peaches for today and tomorrow and as many "firm ripe" as you believe you can eat between then and the next market when more fresh peaches come to town. Making a pie/cobbler/pudding etc? If you've got a head full of steam and are making it as soon as you get back, find a few finger ripe peaches. Many, my mother included, actually prefer firmer fruit for such confections so plan accordingly. Also remember, we do price in bulk so ask about the price for half bushel, and seconds for that matter.
Keeping/Ripening Your Peaches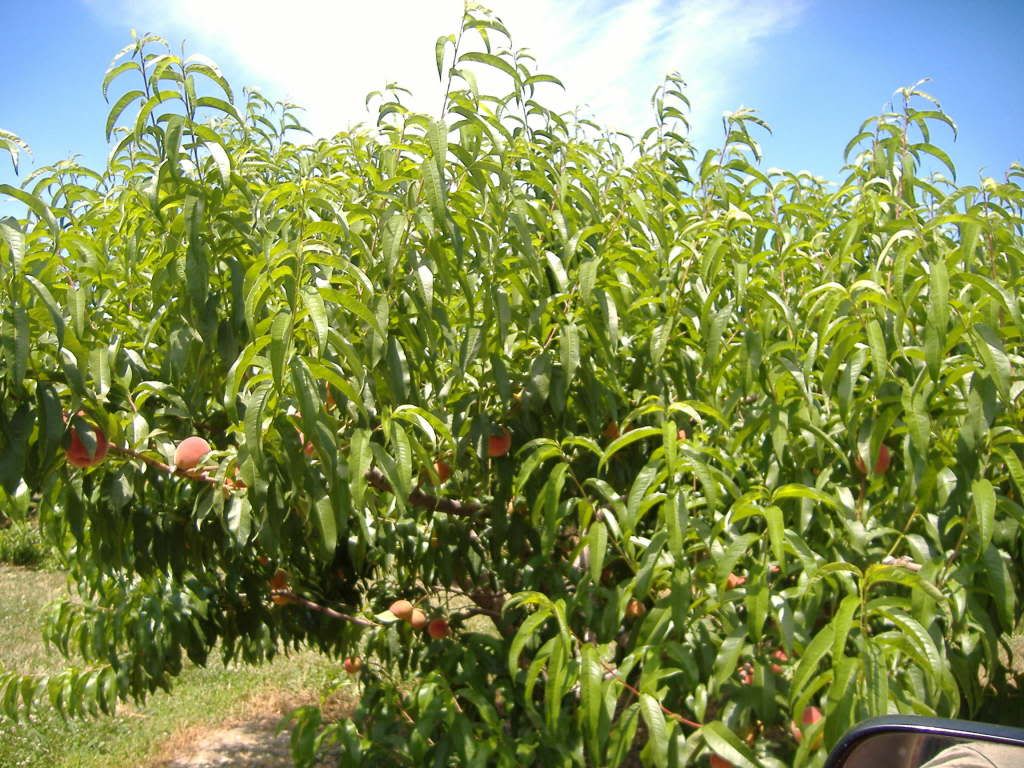 Peaches are best kept at room temperature but are also not harmed by refrigeration. To make your peaches last all week, eat the softest first, place firm ones in the bottom of the fridge, and rotate "a day's worth of peaches" from the fridge to the counter each day you eat peaches. This way, tomorrow's fruit will ripen as you eat today, and the rest will be waiting for you in the refrigerator. Though it varies with peach varieties and weather conditions, peaches commonly last one week or longer in a refrigerator.
Can't Wait Any Longer? Fruit ripens in the presence of a gas called ethylene, found naturally in the fruit. A cool trick to quickly ripen your "firm ripe" peaches should you find yourself in need is to cut a piece of a high ethylene fruit; an apple or banana, and place it in a plastic bag with the peaches you wish to ripen, tie the bag shut at the top and place on the counter or in the fridge (depending on how dire the peach emergency is - don't panic, just place bag on counter). It won't take long at all using this method.