<< Back to main
Play With Fire, Scarecrow! Or how I learned to cook with hot chillies
Posted 4/8/2016 3:07pm by Ben Wenk.
Consistently, when I need food inspiration and great ideas, I can look no further than you guys - our customers and friends at market. Such was the occasion this fall when I ran into Courtney and Kate at Headhouse in October.
They came in raving about a recipe they'd found in the New York Times Food section - a Trinidadian recipe called Trini Chana and Aloo. They'd used one of our 'Moruga' Trinidad Scorpion chilies (how apropos?). They raved about the heat, the flavor, and the pungency. I had to look it up and replicate this recipe.
But here's the rub - I've never cooked with these super hot peppers. I know what you're thinking but the truth is, hard to believe I know, it's a lot of hard work growing all this stuff and sorting it for market. For the most part, I have cooked with everything we have and at the least I've learned HOW to cook with this particular ingredient.
Enter Josh - pepperhead, scovillifile, and purveyor of the seeds that grew these super hots. He's looking to do fermented hot sauce on a commercial scale (coming to a store near you, hopefully) and wanted to have a local supply before he found us at Headhouse. He's the master of high spice chilies and he'd told me all about these beasts.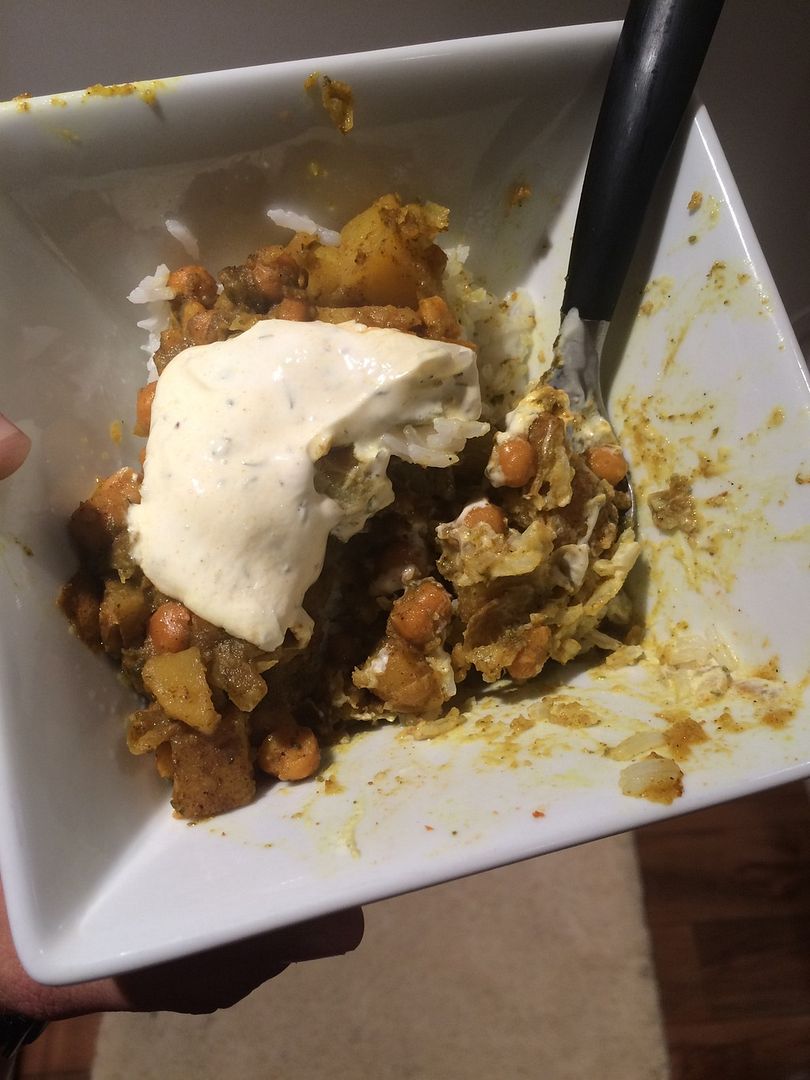 So! This recipe is super fun and so is preparing it - INCLUDING the super hot chilies. Here are some tips if you've yet to take the plunge. In applications such as this warming Trini curry, you'll be SO glad you did. Added bonus, your whole house will have this sweet aroma long after the meal is finished. I tried to take pictures to document the proceedings. The first shot, left, was all that was left by the time I made it the first time. The second shot, right, was so pleasing to the smell that I'd hogged down quite a few bites before I remembered a picture.
SUPER HOT PEPPER RULES FOR BEGINNERS!
Start off small. I was cooking for me AND my girlfriend Amanda, who has a much lower heat tolerance. I chose the chocolate ghost chili - half the heat of the Moruga Scorpion. I used about a third of one pepper for this recipe.
Use gloves. This is a must! Food grade latex is good but even plastic bags will work, so long as they aren't broken! Don't remove the gloves and toss them until you've thrown away all the seeds and stems etc. Then wash hands right after just to be safe. I was intimated at first - I had no reason to be. Wear the gloves and you're fine.
Have a backup plan! In respect of Amanda's lower spice threshold, make a cooling yogurt sauce in case my first hot pepper dish got out of hand, heat wise. Luckily, this one didn't but the yogurt sauce was tasty and cooling just the same. I just used complimentary flavors, mixing lime juice, cilantro, and turmeric into greek yogurt.
In the end, I was incredibly satisfied with the food, incredibly happy to have conquered my fears of cooking with these peppers, and eager to make it again - it wouldn't have been the same without it! We made it again without it, just so find out. It's one of my new favorite vegetarian recipes to make at the house and it'll likely be in the rotation for a very long time. Thanks Courtney, Kate, and Josh!