<< Back
penetrometer
Posted 8/25/2016 8:36am by Ben Wenk.
Welcome back, my fellow nerds! When we last spoke, we were discussing frost damage and the science behind it and the conditions that affect it. I feel like I owe you all a third and final entry on what happened this summer with the crop that survived. But before that, let's go back to a topic we introduced last year around this time of year - measuring apple maturity. If you recall from vol. I, it's common for these kinds of evaluations to start by qualitative analysis by people with color vision. I'm not so great at the color vision thing, so I'm training myself in the more quantitative methods. I referenced, in that entry, the penetrometer. In this entry, you'll see it put to use. Don't worry, it's safe to view at work!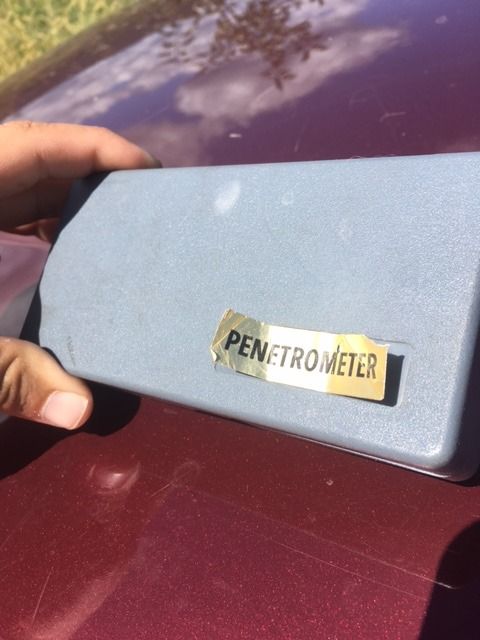 Apple firmness, measured in pounds per square inch, is a common maturity analysis for apples destined to be processed into apple sauce, pie filling, juice, and cider. There's a minimum pressure (16 psi) fruit processors require to receive fruit as "premium" - below this measure, pressure can be limiting in terms of which products can be made with this fruit. While it's most useful for processing fruit, we're very familiar with what to expect for changes in firmness over time so it's also useful for fresh fruit analysis around here, especially when paired with spectrometer reading (see entry 1) and when you make multiple readings over time. I'm hoping to start checking for starch with iodine as also referenced in entry 1 but for now, let's see just how this instrument is used.
Once you've assembled your penetrometer, the next step is to pick some fruit! I usually start with the one that, visually, looks the "most ripe" or the one that picks the easiest - two qualitative visual cues. Then, I try to pick another fruit that "representative of the rest of the tree" or block, in some cases. This way, I can communicate to the harvest crew us how much of a spot-picking job this is going to be. Some varieties ripen more uniformly than others. The apple I'm testing in these shots is the new, syrupy sweet selection known as 'Blondie'.
Fruit in hand, we first use a knife (no farmer should be caught without one) to remove the fruit skin (above) - this is a measure of the firmness of the apple flesh. We use a hand held penetrometer - great for field tests. If you were conducting research using firmness as a metric, you'd need a bench model that insures even pressure, steady pressure, and a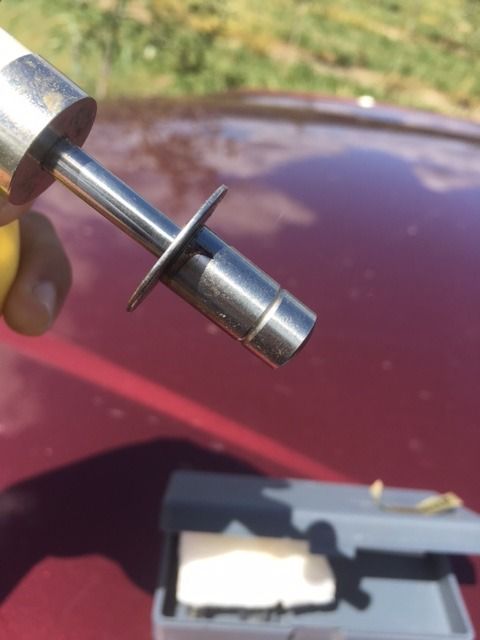 perfect perpendicular angle. No such needs in our case, but one thing in common with both is a defined depth of penetration to remove that variable. This close up shot shows the indented ring at which the reading is taken (right). Then, holding the apple still on a firm, sturdy surface with one hand, the plunger shown in that picture is pushed into the flesh of the apple until the plunger reaches penetrates the distance from the bottom to that line. When that line is achieved, you remove the penetrometer and take your reading. The penetrometer is designed kind of like a high/low thermometer - the needle freezes at the maximum pressure applied. So for the best reading, it's important to stop pushing after you hit that line - the apple flesh will get firmer the closer to the core you get. Below are pictures of the penetrometer in action - keep in mind, the methodology described above doesn't leave a hand free so I'm attempting to steady the apple and push the penetrometer with the same hand (huzzah). When you're trying this at home (ha!) without the camera, it's one hand on the fruit one hand applying even steady pressure at a perfect downward angle on the fruit.

Blondie at 15.5 brix (not pictured) and 18.5 psi? She's ready to go. Enjoy those apples, nerds and be sure to check back in for more nerdy detail.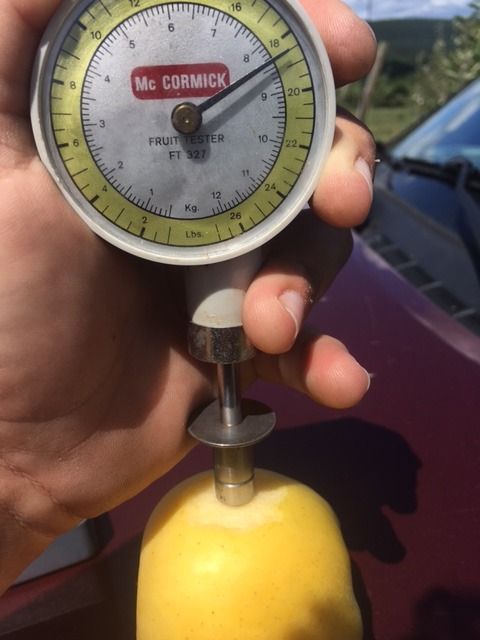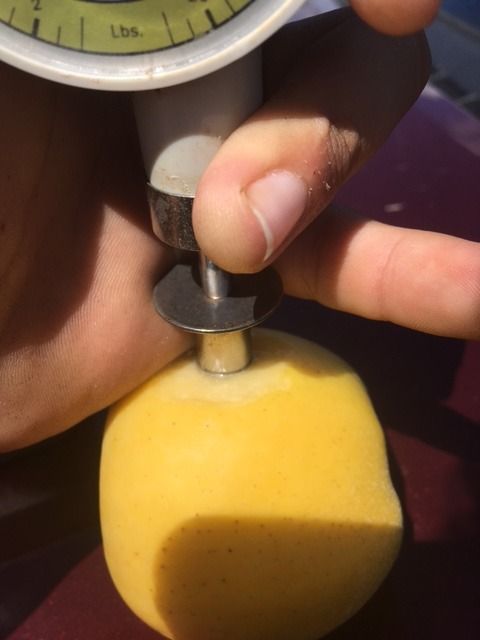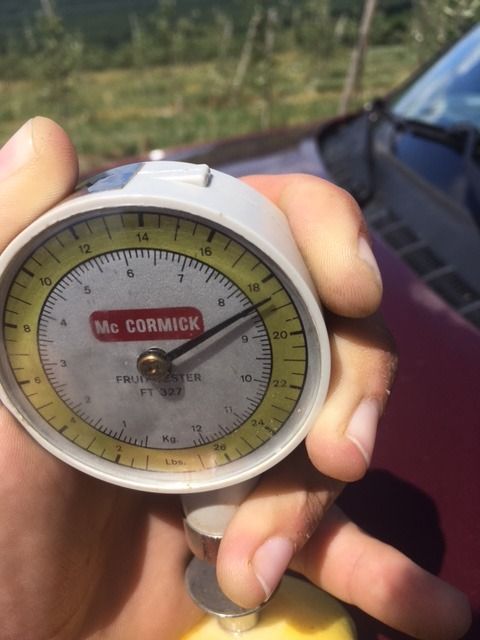 Nerdy Ag I - Harvest Maturity vol. 1
Nerdy Ag II - Frost Damage vol. 1
Posted 10/8/2015 12:39pm by Ben Wenk.
In the past, you have (or maybe haven't) read me blogging about in depth growing practices, answering your questions from the interwebs, and creating content to address some of our most frequently asked questions at market. All these have been fun "blog series" to write if you want to call them such a thing but I hadn't come up with the next thing to write about until today when I was tasked with judging the maturity to harvest of about 6 different apple varieties. I took to Instagram to nerd out when I realized, hey! This might make for a fun read! And when you're as nerdy as I am with... well... everything, then you're pretty much of the opinion that there's a large population of folks eager to nerd out with you. So, in blatant denial of the truth - that being, of course, that you couldn't be any less interested, I introduce the new blog series, Nerdy Ag.
So! Apple trees exhibit two kinds of growth: vegetative and propagative. While that statement alone warrants another blog entry unto itself, we'll concern ourselves only of the propagative growth which is how we get fruit - that is to say vegetative growth makes limbs and leaves, propagative gives us fruit. We'll talk about buds and biennial trees later. A pollinated blossom forms a tiny fruitlet that undergoes rapid cell division. After "June drop" these apples start to grow by cell division and finally, begin to convert starches to sugars. There are many ways to tell if an apple is "mature" or ripe - some sensory, some scientific.
The first indicator is seed color. The apple (matured ovary, nerds) isn't making it's final maturing stages until the seeds have gone from a green color to a darker, browner color. If you cut open an apple and see green seeds, you need test anything else - you're looking at a "green" (immature, unripe) fruit.
A second test for apples that have mature seeds is a starch-iodine test. Again, apples that are cut and tested are immediately discarded, so let not your heart be troubled. To perform a starch iodine test, you'll need to cut the apple horizontally and use a garden spritzer to apple an iodine solution. When the Iodine reacts with the flesh of the apple, you can determine what percentage of starches have been converted to sugars. Because this starch conversion to sugars continue post harvest, it's important to consult charts like this to determine when to harvest (see also 8 index chart).
A third test, popular in the processing apple industry, is using a penetrometer. As the name implies, this tests the firmness of the apple by the resistance pressure made by the cells of the apples flesh! A reading of the pressure at the time of delivery of apples to a processor is an important metric in deciding what products can/should be made with them. Fancy penetrometers are for inside, lab use only and sit on a table to remove all other variables. Hand held penetrometers are more common, as they are easy to take to the field with you, though steps must be made to insure the accuracy of measurements. This final, fourth mention of the term "penetrometer" is merely to see if there's still anyone out there with a middle school sense of humor who hasn't giggled.
But the fun and easy one that I use the most is the refractometer (pictured). This measures the brix, the amount of sugar, in a suspended solution, of which apple juice (cider) is one. We'll talk sensory tests later, but as one who is somewhat sensory deficient, this is my method of choice. Testing is done by squeezing the juice of an apple onto the pen-like tip of this kaleidoscope measuring device. Once you flatten this solution into a thin, uniform film, you can point the refractometer at the light and see the reading as you look into the eyepiece. Let's get this gadget working!
Let's start with a low brix reading. Please consider the Braeburn apple pictured to the right, here. As you can tell from the photo - my iPhone camera lens through the eyepiece of the refractometer, this apple is measuring only 12 brix (bx). To taste this apple, you'd agree - underripe. And, true to form, this would be about 10-15 days earlier than we'd ever harvested Braeburn otherwise.
But! As you'll also see form the picture, it looks like a ready-to-eat apple! I'm colorblind, so I'm making myself learn fruit maturity the scientific way and this is a situation in which it's really helpful. However, I'm also blessed with a discerning palette and it wasn't hard for anyone to find this apple green, starchy, and unsweet to taste it. Let's move on - I only tested this one because I was driving by it on the way to other fruits!
These next two varieties had different brix but were both deemed to be ready for harvest. The first was a slam dunk. It's only the second harvest for these here at Three Springs but they're quickly becoming one of my favorites - Pink Lady cv. 'Maslin', an early ripening mutuation of Pink Lady cv. 'Cripps Pink'. As you can see in the photo, these chimed in at a brix over 15 which is really great! Most importantly, they tasted like they were ready.
As did the Cameo, pictured on the right. Long a favorite here around the farm for their flavor, crunch, and storability. This is an apple we typically sell straight through March, April, and May so at a few fewer brix, these will be harvested at a maturity that will 1) taste good now, right off the tree and 2) have some starches that can convert to sugar in a storage scenario such that the fruit continues to mature and sweeten in storage, rather than spoil.
The next apple I tested is one we get a lot of questions about in the fall: Stayman. Without going into the differences between Stayman, Winesap, and Stayman/Winesap (this is the first of these) - 'Snapp' Stayman for the real hort nerds out there was an apple that measured high in brix but I didn't think was quite ready. We were hoping to harvest these with the likes of Cameo and Pink Lady 'Maslin' from a logistics/efficiency/management perspective. However, while the instruments put Stayman on par with 'Maslin' Pink Lady - it still tasted starchy to me. I just think this one needs a little more time. From a logistics standpoint, the next chance we would have to harvest it would be the following week at the same time, but I think that'll be worth the wait based 100% on my own sensory evaluation.
The final case we'll look at is the same apple in two different areas of our same farm. We'll call this variety Mystery Apple (to torture you) and we'll call the first location X, and the second Y (he said quite nerdishly). Mystery Apple, location X is on a semi-dwarfing disease resistant rootstock - G.16. These are planted between an existing block of Honeycrisp on m.26 (also semi dwarf) and a windbreak beside a little brook. What this means is shading - significantly less sun than site Y. It is, however, lower elevation and a consistently warmer site than site Y and the rootstock more dwarfing. Trees on site X are also significantly younger than Y, less mature. While I have witnessed more dwarfing (read, more light inception) and young (smaller) trees produce higher quality fruit, these apples at site X, while a little inconclusive if you look at that shot, were, at best about a 14-15 bx.
Meanwhile, older more mature trees, on a more vigorous rootstock, at a higher elevation (colder) site (Y) produced mystery apples with a brix of 21! I'll keep an eye on these two blocks going forward but Mystery apple harvested last year at a brix of 24 and since this year was a little more mild, heat-wise, I'll call these ready to harvest at 21 for 2015. But this is just a cool, nerdy, scientific horticultural wonder to keep an eye on as these two blocks mature. Block Y will be less light inception per tree in full sun. Block X will be more light inception at a half-day's sun. Which will produce better quality (higher brix) Mystery apples. It's science - that's what makes these mysteries fun!
** EDIT 10/12/2015 **
This nerdy blog references penetrometers and starch-iodine tests! See video below from PA Apples for MORE nerdy content including videos of both nerdy instruments in action! Note, that bench penetrometer will be much more accurate than our hand-held penetrometer!
Apple harvest is just getting started in PA. Did you know that apples are carefully hand harvested? Here's a look at the harvest process. #PickPAapples

Posted by Pennsylvania Apples on Tuesday, August 12, 2014
Nerdy Ag vol. II - Frost and Freeze Damage
Nerdy Ag vol. III - Frosts, revisited