<< Back
pantry items
Posted 12/8/2014 1:19pm by Ben Wenk.
Basket Cases
Well, folks! You probably saw it coming! With our new Pantry items, it's become all the easier to provide our awesome customers with simple gifts on the go! Maybe for coworkers, maybe clients, maybe hostesses... either way, it's a fun way to show your appreciation AND support local agriculture. Gift baskets are customizable, come with a nice "Wenk" mini-crate filled with items and we will attempt to ship them, if you please. Let's visit the options.
The Jams and Spreads basket is perfect for someone who loves breads (and biscuits, and muffins, and toast, and yogurt) as much as we do. Of course, we've gotten to meet some of the best bakers in the US at our farmers markets, but then again, I'm betting you're taking advantage of these too. As always, these are customizable but you can always trust us to come up with a great assortment of our excellent spreads in this basket!
The Kosher basket is a great option for anyone but especially for followers of the Jewish faith. Our local, family-owened, customer processor Kime's Cider Mill has earned this Kosher certification allowing us to offer the following products Kosher certified: canned peaches, apple sauce, apple juice, apple butter, peach butter, and pear butter.
If you have someone in your life who, due to health reasons or dietary choice, is eliminating refined sugars from his or her diet, we understand how difficult it can be to find stuff to eat! Anymore, it's hard to get away from all that. With this in mind, we offer a wide variety of products - really the very same products above (with the exception of peach butter) are available without sugar - No Sugar Tonight!.
And then there's the "hot sauce" eater. I'm kind of one myself. It used to be the "hot sauce guy" was like your crazy uncle. However, the American palate is getting much more "spice hungry" with each year. Now there are plenty of guys and gals with a great appreciation for spicy foods, and you better believe we've got them covered! Customize your own basket if you like, but don't leave out the Muscle Bound Lummox - our signature hot sauce! We'd be happy to make one for you, clean and simple - Hot Stuff! Coming Through!
Or just throw the Kitchen Sink at 'em! We've got the ultimate gift choice for big fans of Three Springs - 12 of our finest products in one container! How cool is that? We'll pick out 12 favorites or we'll let you choose exactly what suits you/your friend and loved one the best. Tell me! How cool is that?
Customize your basket in the "comments" section at check out!
Posted 10/3/2009 1:02pm by Ben Wenk.
Three Springs Fruit Farm is
Kosher Certified!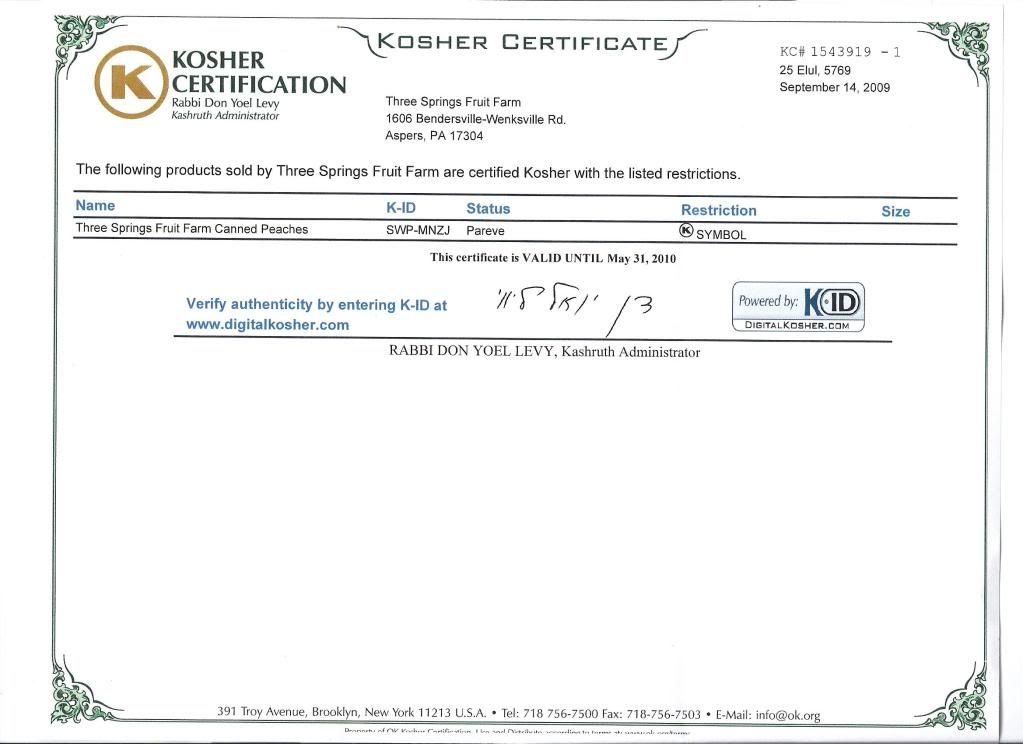 After months working with our processers, Kime's Cider Mill, we have fullfilled all of our kosher obligations and are now going to be Kosher (Pareve) certified for the following products:
Apple Sauce

Apple Butter

Pear Butter

Canned Peaches

Fuji Apple Juice

Ginger Apple Juice

Tart Cherry Juice
Plus a few more products we hope to debut in the springtime. We are working with our cider presser, Bermudian Springs Cider Mill, to have our "Must Eat" Apple Cider achieve the same certification. We're eager to move our current inventory because each labelled product on our stand will carry the kosher certified symbol from here on out!