<< Back
nectarines
Posted 8/27/2014 3:53pm by Ben Wenk.
Why Are Peaches Fuzzy?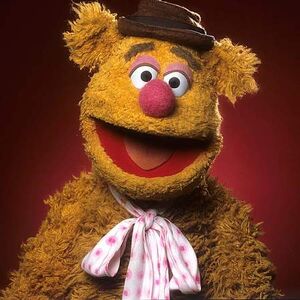 No, not Fozzie! Fuzzy!

This question was posed to me via twitter by Sean, proprietor and brewmaster at Mellody Brewing Co., food maven, #tastingjawn master, stylish bow tie wearer, friend of the farm, and stalwart Phillies supporter:
@3springsfruit why are peaches fuzzy?

— MellodyBrewing (@mellodybrewing) August 26, 2014
A great question, Sean, and a worthy blog entry in our "Ask a Grower" series.
Peaches, Prunus persica, were originally grown in China. Clemson claims these fruits washed up on the shores of the New World in 1571 with Spanish missionaries, first arriving in what's now St. Simon's Island, Georgia. So, they evolved in a climate and environment not very familiar to me.
However, by my observation here in the Eastern US, peach fuzz (or pubescence to all we Horticulture nerds) is a natural defense system for protecting the fruits from rainwater. The tiny hairs allow droplets of water to sit on top of them and not on the more vulnerable skin of the fruit. Now certainly, when rains are heavy, the peaches will get wet. But for light rains or heavy dews, it's conceivable peaches could be more susceptible to rots and bacteria than they already are without that pubescence.
Unless, they just adapted to express the recessive allele for pubescence and became nectarines. Nectarines are simply fuzz-less peaches. Though there are markedly different flavors between peaches and nectarines in many cases, scientifically, this is all that separates them. Why don't nectarines rot more than peaches? Well... hehe - sometimes they do. However, they've been naturally selected for smoother and smoother skin, allowing (in an ideal environment) to allow rain waters to slip-slide all down the fruits and onto the ground, feeding the roots.
Some suspect peach fuzz can deter browsing from insects and other animals. Well... as I said, I've never been to China. The super smart-alecky farmer notion in me would like to know why it hasn't stopped any stink bugs, Oriental Fruit Moths, Tarnished Plant Bugs, Western Flower Thrips, Tufted Apple Budmoth, Plum Curculio, crows, turkeys, or deer that we have here in our environment... just to name a few. I'm just glad it hasn't stopped you, the faithful 3Springs blog reader and peach devotee, from browsing on them at your home!
Wocka Wocka Wocka!
Farmer Ben