<< Back
local
Posted 1/13/2011 2:01pm by Ben Wenk.
I've never been known as one who has a propensity for stirring the pot or being a malcontent. However, when things I'm passionate about are sullied and bastardized by folks with no real credibility in the realm of the things I care about...
This story really starts two years ago when I was trying to find a good mid-week market for our farm. We'd made a lot of great new friends in Greenbelt at our Sunday market there and many of them expressed an interest in buying our products during the week. With this in mind, I searched for and found a market that both suited our needs (nearby to Greenbelt, middle of the week) and showed an interest in having us as a vendor. While this market had another fruit vendor, the specialty vegetables and the wide range of tree fruit we offer was going to fill a significant void, we were told. It seemed like a great fit and I was told to expect confirmation of our spot once the board met and approved us.
Just a few weeks later, I get an email from the manager of this market apologizing profusely, explaining that the board ruled that we could not enter the market because our farm was in Pennsylvania. At this time, there was already a vendor from Pennsylvania attending this market - a vendor whose farm was three times the distance from market as ours. What's more, a few of the Maryland growers were traveling twice as far to that market as I was. No matter. Local is defined in whatever way best suits those who are defining it and I'd better look somewhere else for a farmers market. Frustrating as this was, this was a private market and they were free to create whatever nonsensical "rules" they'd like, even at the expense of their own market, in this case. This market continues to have vendors from other states - we have not be asked back.

When I was in college, I spoke to several grocery store produce managers who told me local produce is defined as anything that get to the store on a truck in one day or less. Pressing further, these managers couldn't tell me if one day meant one day's travel, one 24 hour period, or 24 "truck hours" (as truckers cannot drive 24 hours straight legally). Their definition had to maintain plausible deniability and be elastic enough to suit their needs. The conversation ended... abruptly.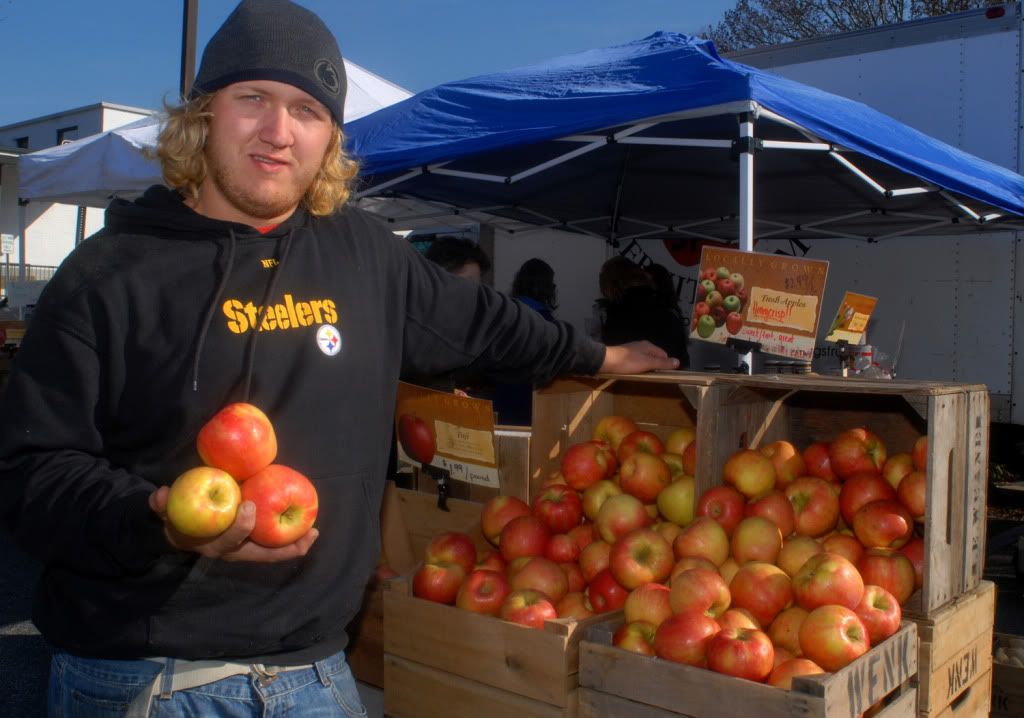 But fear not, locavores! The Maryland Department of Agriculture is being proactive, issuing new regulations to define local. Admittedly, at the time, I had a feeling that my State Department of Agriculture missed a real opportunity to step up and provide a great model other states could follow. All the same, it was a breath of fresh air that this selective, self-applied definition of local was going to be really challenged, by my estimation, for the first time!
And, as has happened so many times as a young adult in the business of local agriculture, my faith and anticipation was quickly proven to be poorly guided.
Two years removed from the market fiasco and I'm still trying to market our products to folks in Maryland who are clamoring for them. After having missed the event last year, I acted quickly to insure I'd attend the 3rd Annual Maryland Buyer/Grower Meeting after having a positive experience at the Innaugural Event. Today, I was informed that I would not be able to attend the event this year based solely on the fact that my farm is in Pennsylvania. When pressed for an explanation of this policy change, I was told by Mark Powell, Chief of Marketing (email) that the buyers at this meeting were there to buy locally from Maryland farmers and my inclusion might "confuse" them. That is to say, the Ag Department believes that Maryland is more local than Pennsylvania. If my fruit travels 70 miles and an Eastern Shore grower travels 120, then I'm trying to confuse you - tricking you into buying something that isn't local by traveling over state lines.
For me, local should be defined by the consumer. If you're reading this and you want to by your food locally, you get to decide! What's local to you doesn't have to be local for your neighbor. If you've tried products from 50 miles away and the ones from 100 miles away are better, you're free to make that choice. We do not need to start playing the more-local-than-thou game, it's going to make things ugly for everyone. In a perfect world, every person purchasing local farm products gets to assign the value they see fit without a journalist-turned-ag marketer placed between you and I to prevent it from happening. At the end of the day, if you want a local product and you think 70 miles is closer to your home than 120 miles, I think you should be able to make your mind up for yourself whether the government thinks that's confusing or not!

And if you're looking for an organization built on local food facilitation, not obstruction, learn more about Future Harvest CASA.
-Farmer Ben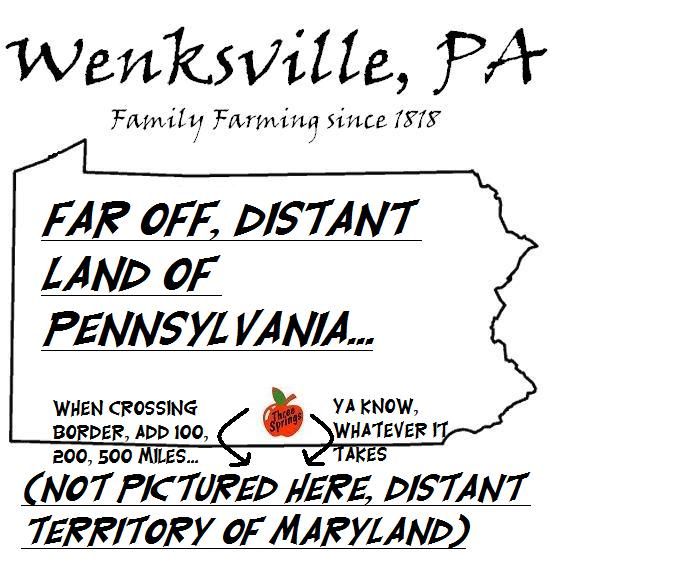 Posted 1/3/2011 9:15am by Ben Wenk.
Happy New Year, fruit lovers! I'd mentioned to our email subscribers that we can be found volunteering at the PA Farm Show each year. If you're unfamiliar with this event, it's one of the largest of its kind. It's a great chance to learn a lot about agriculture and, perhaps more famously, a terrific place to eat delicious food! On display will be a wide diversity of animals to check out - plenty of different dairy cows and livestock plus what seems like one hundred different breeds of poultry and fowl - always my favorite fascination since my first trip as a little ag kid. Antique farm equipment, tons of events including very popular rodeo competitions, informative exhibitions from local FFA students and merchants from all PA ag sectors - there's a great "Farm Show Dectective" program for children. Anyone can learn something new at the farm show - I learn something new every year. Of course, the Food Court is the star of the show with booths staffed with volunteers from many of the PA ag commodities (PA apple dumplings, PA fresh cut fries, PA trout sandwiches, PA thick milkshakes, PA lamb stew & beef sandwiches) and it's all prepared on site! The farm show is free to enter, though parking is $10. All those funds go to the PA Dept. of Agriculture which has taken hard and disproportionatey large budget cuts every year. Food court purchases support the commodity boards, that is to say all the profit from our delicious apple dumplings funds vital research in the apple industry - research that benefits growers on the whole east coast, not only in Pennsylvania. If you think you can make time to attend, I know you won't be disappointed. Plus... you can chat it up with us at the following dates and times:
Monday 1/10/11 - Ben is helping at the Apple Exhibition in the Main Hall from sometime right after a delicious Food Court lunch until close (8pm)
Wednesday 1/12/11 - The whole crew: brothers Dave & John, Ben, and possibly (hopefully) a few other familar faces will be pouring cider, warming dumplings and making apple & peach sundaes at the Apple Booth inside the Food Court from 3-9pm
The Farm Show is held annually at the Farm Show Complex in Harrisburg, PA - a 2 1/2 hr drive from Washington, DC, a 1 1/2 hour drive from Towson, MD, and less than two hours away from sunny Philadelphia, PA.
You're certain to learn at least a little bit, over-eat a little bit, and lend a big hand to local agriculture.