<< Back
heirloom
Posted 8/7/2014 2:06pm by Ben Wenk.
Heirloom, Just Old, or Ugly

Heirloom tomatoes are officially a thing! Or so I'm told.
All jokes aside, heirloom tomatoes more than a thing, they're an awesome thing! Since their advent into the marketplace, many other things have been anointed as "heirloom" as the term has come to be synonymous with a level of quality. But what does the word mean and how is it used? How is the term abused? Let's (blanch, and) peel back some tomato skin and learn more!
When a clock or a quilt is a family heirloom, it's an item that's been handed down in the family for generations. While there's no consensus definition of heirloom as applied to tomatoes, this first premise is required in any definition of heirloom - it must be a tomato that's been handed down for generations. When you hand down Grandfather's watch to a new generation, it's as simple as keeping it somewhere safe until you entrust a younger family member to keep it somewhere safe. To pass along an heirloom tomato, you need to save seeds and use those seeds to grow a new crop of tomatoes of the same variety (ideally) every year. Therefore, a hybridized tomato, whose seeds are infertile and designed such that their seeds must be purchased every year and not saved from the fruit, cannot be an heirloom.
Without any real numbers to back me up, hybridized tomatoes (red slicers in the grocery store and their ilk) make up the overwhelming majority of the marketplace but represent a very tiny percentage of the biodiversity of the tomato (tomatoes originated in Mexico, for the nutritional anthropologists out there). It's impossible to quantify the number of heirloom tomato varieties they are because many are open pollinated and the genetic makeup of each tomato can change from year to year. In this way, a seed saver's tomato patch is similar to a livestock operation - such that your neighbor's Green Zebra tomatoes might possess different characteristics than yours if you're selecting your seeds for different quantities.
For me, that's the whole of my definition. While the tomatoes your family brought over from Italy and have grown every year in your garden are, maybe, more heirloom (if there can be such a thing) than my Arkansas Traveler, if the tomato can be passed down (and has been), it's an heirloom in my eyes.
The Arkansas Traveler (pictured above) was an intentional example, to demonstrate a counter argument. One of the first things you'll learn when you study heirloom tomatoes is there are multiple and conflicting stories around the origin of each variety. Many of these are fictionalized and romanticized to make them more appealing. So, depending on which story you believe, the Arkansas Traveler was either passed down "through folks in the Mountains of Arkansas where it was a hillbilly favorite" or it was developed by tomato breeders at the University of Arkansas anywhere from the 1930's to the 1970's. But this much is for sure, the seeds saved from our Arkansas Traveler tomatoes will yield tomatoes similar to its predecessors. Since this has occurred over at least one generation, I consider these heirloom tomatoes. Again, the main distinction being it's viability from seed.
So, why do heirloom tomatoes taste so much better? First, a reminder that language is what we make it to be, just like a wiki. Sometimes, our population gets it right. Sometimes, we abuse terms like "artisan" (NSFW language). But, there's nothing about "heirloom" that automatically means delicious! More than likely, the heirloom tomato seeds were saved by folks because somebody found them tasty. However, I've had plenty of heirloom tomatoes that didn't taste good and a very select few hybrid tomatoes that did taste very good as well. However, by in large, tomato breeders bred hybrid tomatoes to look good, store well, and take abuse. Heirloom tomato seed savers have selected and saved seeds almost exclusively for taste and flavor. And that's why heirloom tomatoes taste better. It isn't that they automatically taste better, it's because they were selected for taste rather than anything but, in the case of their hybrid counterparts.
So! To review, in a very logic problem kind of way. All non-hybridized seeds can be heirlooms, but not every one is. All heirlooms are non-hybridized. Not all "old" tomato varieties are heirlooms, BUT (again) all heirlooms are (at least a few generations) old. Heirloom tomato seeds can be saved based on any preferable characteristic but are most commonly saved because of their superior flavor, often resulting oddly colored and oddly shaped tomatoes that taste good! However, not all heirloom tomatoes are oddly colored and oddly shaped just as not all hybrid tomatoes are uniformly colored and shaped. Anything can be considered "heirloom" if it has been passed down over a number of years, but that doesn't mean it has the characteristics you want.
And that is as comprehensive a lecture on heirloom tomatoes as you'd ever care to read!
Posted 8/18/2011 12:58pm by Ben Wenk.
From the most voracious tomato-vores, to the round-red only myopic heirloom neophytes - the following is designed for tomato eaters of every description so that you might pick out just the right 'mater for just the right particular occasion!


Brandywine (both pink and red) - "The Beginner's Heirloom"

Never tried the whole heirloom thing before? Here's a good jumping off point. Not nearly as misshapen and ugly as many, this tomato offers bold tomato flavor, adds beautiful color, but eats like a bolder, stronger-flavored version of many grocery store red slicers (ehhh, not my cup of joe). Snacking, salads, and sandwiches - any of your favorite tomato applications would be a great match for a Brandywine tomato, though sauces born of these fruits are sometimes sweeter than some prefer. So, in summary, if you're looking to dip your toes in the chilly pool of heirloom tomatoes, this is a fine place to start.

Cherokee Purple - "The Best"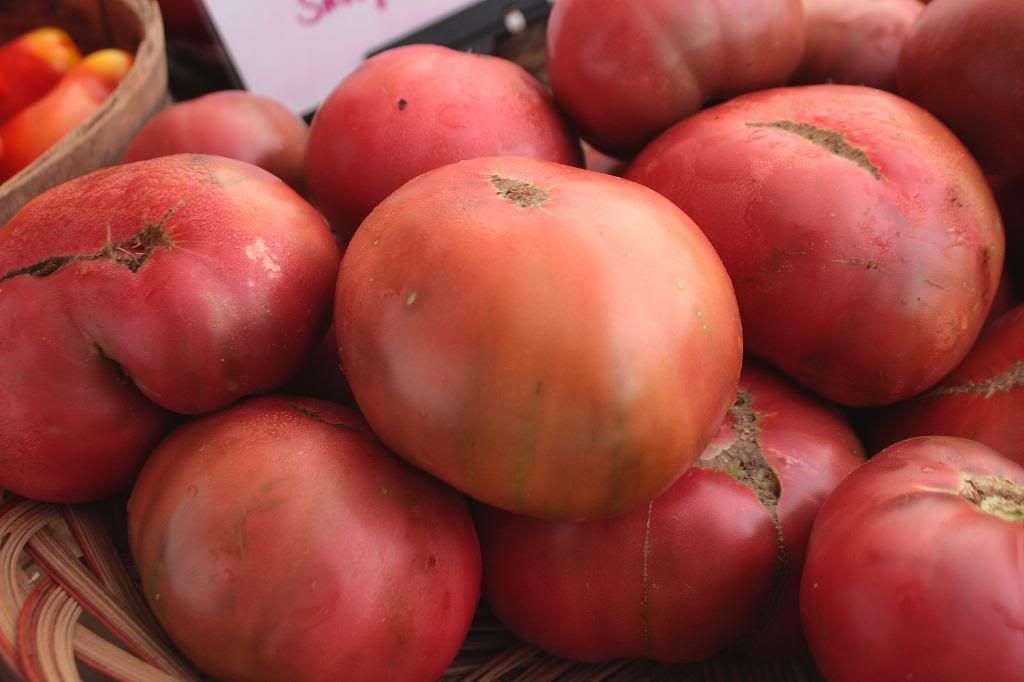 This is the one everyone's gotta have. The one I think I over-plant every year, only to run short on fruit in the height of season. Our best sellers, our most unique flavor, and our most frequently requested tomato, 'Cherokee Purple's origins can be traced back to the Native American tribe of the same name. The color of this tomato looks more brown or black to some than dark purple. It's flavor is (somehow) smokey and intensely sweet with plenty of acidified balance. This tomato is approved for all audiences and should be consumed immediately. There is no wrong preparation for this tomato - you name it, use one. Not to be missed.


Green Zebra - "Salt Shaker Snacker"

An essential part of any heirloom tomato garden, in my modest opinion, the 'Green Zebra' is one of the most unique and best tasting tomatoes out there. Most notably, if you are a tomato eater who is inclined to snack on a tasty 'mater in one hand with a shaker of salt in the other, many have found this tomato has the flavor of a salted tomato without the additional salt added! It is a bold tomato best for salads and snacks with a good hit of acid, adding counterpoint to the tomato's sweetness. If you've become a big fan of these, the next one to try is...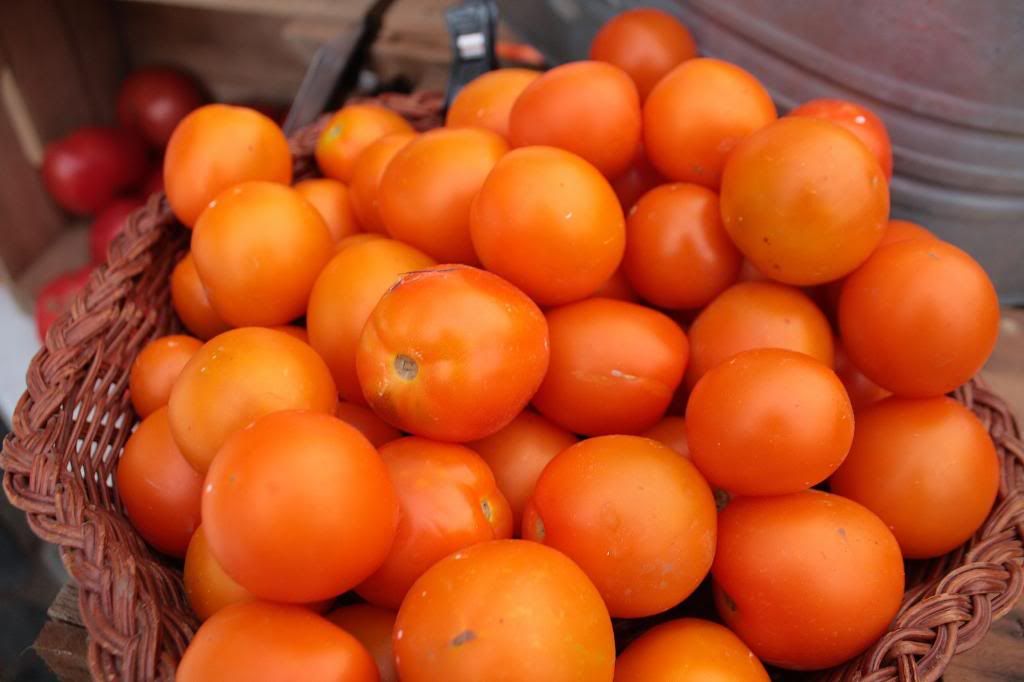 Jaun Flamme - "Zebra's French Cousin"

Bright, bright orange tomatoes of the same size of Green Zebra. These 'saladette' sized tomatoes, to use an industry term, are perfect size to cut in half and throw into your garden, caprese, or tomato salad. Very bold flavored tomatoes that compliment the Green Zebra nicely, perhaps with a little more 'spunk', we'll say, than it's not-easy-to-be green counterparts. These are another tomato that we get asked for by name (usually, "when do you have those 'French ones'") and, along with Green Zebra, are as pleasant a tomato as can be found for a tasty tomato snack!


Pineapple (and Kellogg's Breakfast) - "Sweet, Bacon-loving Tomato"

Pineapple are probably the most visually appealing vegetable on our farm... anywhere. They're just goregous (so says I). They are bright lemon yellow with red sunburst streaks running from calyx (bottom) to stem. Cut them open and they're even prettier - displaying a tie-dye swirl of yellow-orange-red colors that will stun and delight eaters of all ages. These fruit-inspired tomatoes, along with their light orange companion tomatoes, Kellogg's Breakfast, are sweet, sub-acid tomatoes. Similarly to the way white peaches are sub-acid and taste simply sweet, these tomatoes have lots of sugars and very little acid. For this reason, I really like these tomatoes for your summer BLT sandwiches because the sweet tomato flavor dances lovingly in time with a smokey, salty bacon. These are also a great tomato option if you do have difficulty with acidic foods.


Arkansas Traveler (not pictured) - "The Underdog Pseudo-Heirloom"

Developed by the Univeristy of Arkansas in the 1940's, these are the most unassuming tomato on our stand. It's very easy to walk past these, but those who have taken them home have been back for more the next week. Though not a true heirloom, they are non-hybrid seeds that crank off what I'd call "true heirloom flavor"! If you were to close your eyes and think about what a tomato tastes like, you'd come up with something very similar to how these tomatoes taste! They are uniformly round, uniformly pink, somewhat small, and have the most uniform stem pull out there for all you backyard tomato growers. This one will impress your friends. I'll tell you what else will impress your friends - a plate full of Arkansas Traveler tomatoes, sliced, dressed with good extra virgin olive oil and cracked black pepper. Snacking, salads, and sandwiches - these are small enough, you're less likely to cut one and have half a tomato in the fridge for a day or two - you'll use one at a time.

Pomodoro, Italian Piriform or 'pear-shaped' tomato (not pictured)- "Meaty, Beaty, Big and Bouncy"

Here's one that's a little meaty-er, a little bolder and more acidic - a beefsteak-y kind of tomato that can stand the heat in a hot kitchen! Also a fine option for sandwiches, etc - these also are great for roasting and sauce applications. A great way to extract more flavor out of these Italian tomatoes is just to add a little heat - right from the grill or a hot roasting pan. With seeds ordered from Italy, these will give a chicken cacciatore some real authentic Italian kick! Use in any recipe that calls for tomatoes to be cooked.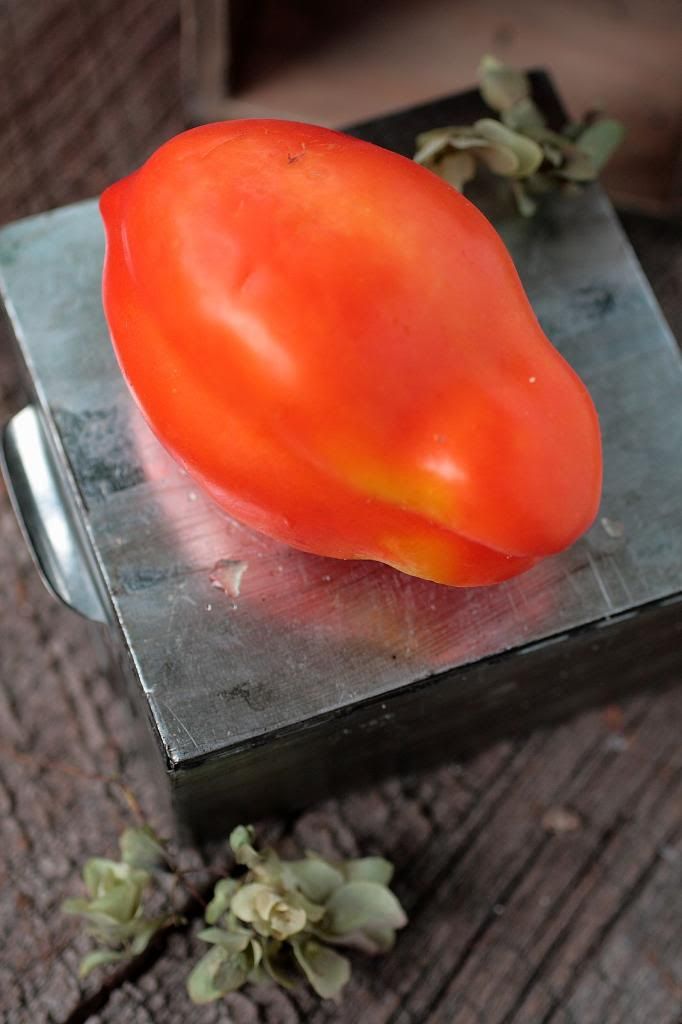 San Marzano - "You Can Do It"

Everyone sees these tomatoes in cans, sees them on their favorite cooking program in sauces, but so many people have never used them as whole tomatoes. Don't neglect this opportunity to elevate your pasta dishes from good homestyle to true restaurant quality by choosing the tomatoes they prefer in fine dining! Very hollow in the middle, these tomatoes are also born of seed ordered directly from Italy, making their resultant sauces authentically, kiss your mama delicious. They blend into instant paste for fresh sauce applications and they cook down into a truly tomato-ey "gravy" for your pasta and sandwiches. Get authentic - get the real San Marzano!
Posted 9/16/2010 4:00pm by Ben Wenk.
This year, I've decided to sell two kinds of Red Delicious at our farmers market and I thought it a good opportunity to talk apple variety "strains" and to talk about the fascinating history of the apple they called "Delicious" - its rise to fame and its fall from favor. Most of the following is an oral history - I don't remember where I learned some of these details. The minutiae comes from wikipedia because I'm a farmer, not a journalist and I'm not willing to reference everything.
Up until the turn of the century, the Ben Davis apple was the national sensation - the most popular, most planted apple variety in the United States. What I was told about the Delicious apple is slightly different than what I'm reading in this the little wikipedia refresher linked above, so I'll tell you what I was told and you can put as much faith in it as you'd like. I was told there was contest for the best apple variety in the United States to coincide with the 1904 World's Fair in St. Louis. The winner was this sweet mottled apple called "Hawkeye" brought from Iowa by an older fellow named Jesse Hiatt (thanks, wikipedia). I was told Mr. Hiatt couldn't be located when the time came for him to claim his prize. With their eyes on this great new variety, Stark Brothers Nursery (still around today) held their own contest, hoping this "Hawkeye" would be submitted again. It was, they made Mr. Hiatt a great offer and began propogating and selling "Stark's Delicious" shortly after. Again, this is the version I was told. Starks claims on their website to have been selling Stark's Red Delicious since 1893, so take my version for what its worth.
The name of the apple was never intended to be "Red Delicious", you see. The name began merely as "Delicious" and has only more recently been called Red Delicious after the folks who discovered a "delicious" yellow fleshed apple growing wild in West Virginia decided to piggyback off of the success of "Delicious" by naming their fruit "Gold Delicious", necessitating the Starks variety and all future sports be called "Red Delicious" to avoid confusion. The perfectly red, perfectly conical fruits with the accentuated calex "bumps" is the result of years of selective breeding. You'll find the "Stark's Delicious" apple to be very tasty but not visually appealing fruit. Orchardists and plant breeders have selected for and taken cuttings from naturally occuring mutants or "sports" (also "strains") of this variety as long as the original has been around. Marketers discovered that consumers at that time were looking for dark colorand shape uniformity (which also packed better to ship). So these qualities were most preferred by breeders as they sought (like everyone else) to find a better Red Delicious. The rest of the story, you likely know already as a big apple fan, reading this blog. Color and shape were chosen ahead of flavor in development of new apple varieties. When customers proved that they would eat a mottled, bi-color apple if it tasted terrific (see 'Gala', 'Fuji', more recently 'Honeycrisp'), the Red Delicious have began a 'Ben Davis'-like slide down the fresh apple pecking order. For now, we still have a few "Stark's Delicious" trees in the ground. This is your chance to experience where this variety began before we remove these trees, never to be heard from again!
[update 9/10/14: We no longer grow "Hawkeye", for one. For second, this piece in The Atlantic relates a more complete version of the history Red Delicious despite their incorrect assertion that it's the most widely grown apple in the US. According to a recent report by US Apple, Gold Delicious is the most widely grown variety. I got no beef with Golds - they're pretty stellar, actually]