<< Back
frost
Posted 5/19/2016 9:06am by Ben Wenk.
It was sometime in the late 1980's when Three Springs Fruit Farm had recently expanded our operation to include sour cherries. A few years later, I'd be put in charge of snack delivery to the harvest crew on the 3-wheeled ATV but this is slightly before I what I can remember. On this particular year, a large hailstorm moved in on us one hot May evening - causing horrific and widespread hail damage on one of our first few cherry crops. It was bad. Very bad. The folks who'd agreed to big our recently large and beautiful cherry crop came out to inspect the damage. There were multiple hail marks on every small, green, firm immature cherry one could find. A few days later while the family enjoyed a large hearty lunch whipped up by Nanny Wenk (boy do I miss those), the phone rings. My grandfather Donnie gets on the horn - it was the field men who inspected the cherries. They'd spoken with their bosses about what they'd seen. The rest of the family around the dinner table, in silent anticipation, leaned over their plates of hot food to hear the voice on the other end tell my grandfather that, apologetically, they wouldn't be able to buy any cherries from us that year. My grandfather paused for a moment and told the buyer "We aren't selling any cherries today". A few more awkward, civil pleasantries were exchanged, and the phone was hung up. Lunch was finished. Three Springs went about its work for the day as if nothing had happened.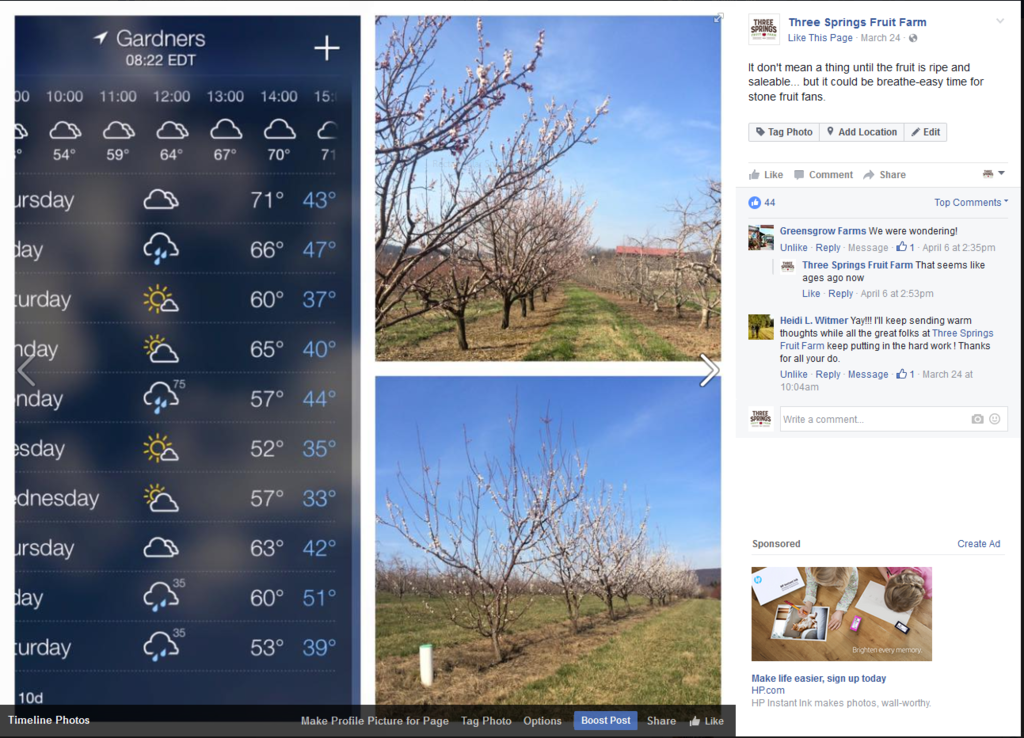 As was alluded to in this regrettable FB post (see right), Donnie's wisdom on that day remains a bit of a mantra here at 3Springs HQ. In the previous blog entry about frost damage, I laid out all the data we have, as growers, to estimate what damage is anticipated at various stages of growth under various conditions. Now, closer to the midway point of the growing season, we're able to ascertain the effects of all of those variables on the crop that we have right now (which, of course, we cannot sell... ok, a few exceptions). Anyhow! Here's what we learned about what survived, to be followed immediately but what may or may not be growing today, having survived thus far.
So, again, a lot was said previously in the other blog - let's focus on two pivotal circumstances that got us to where we are now. The first, is that bit I wrote about how multiple cold events can increase bud hardiness. In other words, the more often the fruiting buds are jolted with a blast of cool air, the better their ability to defend against the next blast. By memory, we had at least three nights of 28F or lower leading up to an overnight low temp of 19F on Monday morning April 10th. Without question, this physiological characteristic of fruit trees prevented our losses from being more catastrophic. Trees are survivors, baby! They can put up with a lot! And certainly, had we gone directly from seasonal temperatures to 19F overnight without those "hardening" events of the weeks before, the prognosis would not be so cheery. The second circumstance is the vary conditions that have made my home of Adams County a fruit haven for it's long 100 year history. The pictoresque hillsides of Adams County are dotted with fruit trees for more reasons than aesthetic qualities alone - the drainage of the coldest air down these hills, away from our fruiting buds, has yet again prevented more catastrophic crop losses to its growers. We are nothing if not the grateful stewards of this great farmland we've landed on and I'm ever more appreciative of my ancestors ability to pick out this part of PA to call home all those years ago. We continue to benefit from their instincts and intuition.
So while all crops were damaged, very little was completely eliminated in the bad weather. As Donnie Wenk would rightly point out, there's little to be gained in quantifying things now when we cannot sell any of it today, but things are uneasy but not dire at 3Springs HQ, I'm happy to report.
Now... will these little, "frostbiten" fruit grow? Well, again, the weather has done us no favors. Cloudy, rainy conditions have persisted for the better part of 3 weeks now and we've witnessed in past years, first hand, in the case of otherwise full and healthy non-frost stricken fruit (especially peaches) succumbing to premature abscission (falling off the tree) due to the lack of heat and sun. Shady Growth, my little miss, is no good. Like many species of sharks that need to swim constantly to bring oxygen-rich water to their gills, growing fruits need sunlight. When they lack such sunlight... bad things. As always, stay tuned, folks!
And in case you'd wondered, a few weeks later when Donnie Wenk did have fruit to sell, that buyer bought every cherry that Three Springs would sell them. The fruits grew around those hail marks.
And Three Springs went about their work for the day as if nothing had happened.
Posted 4/4/2016 10:38am by Ben Wenk.
We agriculture types all got into this with our eyes wide open - well aware of the risks. We are forever at the mercy of our environment. Never more so than this spring. Let's get nerdy with the perilous effects of cold temperatures on bud growth, bud development, and bud mortality (knock on wood).
First, let's go over crop specific data. We'll follow up with some caveats and other considerations. Please keep in mind this data is about 25 years old but we don't have any reason to believe that it's outdated.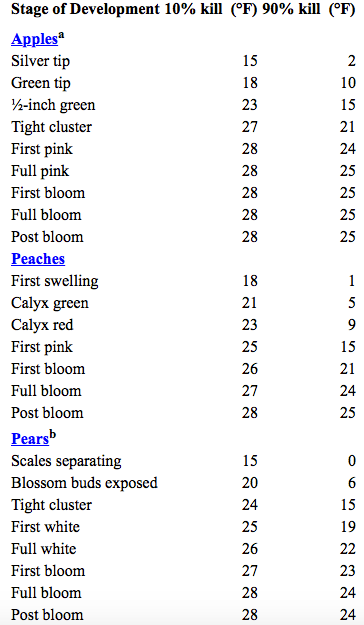 So, a lot of the development stage names are a bit jargon-y (save "full bloom") but it's easy to see by this chart, you don't wanna mess around with 28 F and lower which is exactly what we're facing here in spring 2016. A few notes - the "general" rule of thumb is you'll lose 10% of any blossoms that are open for every hour the temperature is 28 or less. There are, of course, variety specific conditions and hardiness - some varieties of any fruit are genetic predisposed to withstand cooler temperatures. Wind can give you a little bit of relief - 28 and windy is better than 28 and dead calm, such that the cold air moving has a more diminished effect. There's also some evidence that suggests that repeated blast of cold air can improve the hardiness of a bud. Translation, again - that frequent blasts of cool air while the buds are swelling in the spring time can signal a response from the plant to "raise its defenses". As you can see, plants are in every way a lot smarter than we give them credit for. However, there are certainly cold weather events that you can't recover from no matter how "prepared" a tree might make herself. Additionally, for all you physicists out there, there's a little relief to be gained from the introduction of water to a cold night. Having a bud covered in ice will insulate it from the elements. While I wouldn't advise jumping in a pond for your own preservation when low temperatures risk your own mortality, it's an attractive option for fruiting buds. This will be the case ONLY if the buds are continuously wet. The temperature of that water would be 32 degrees while the water is making ice. There's also a little heat to be gained from this phase change since liquid water solidifying to ice is an exothermic reaction, meaning it releases heat. So it's common in freeze-prone areas to have irrigation set up for frost protection. One thing I didn't know about this practice until I read up on it for this entry is the effect of dew point. When the air is dry, the irrigation water will make the temperature plunge meaning it can be more harm than good if you get the job started too late. Of course, you'll need to keep the water running until the air temperature gets over 32 or so (morning) otherwise the results would be catastrophically opposite of what you intended!
Certainly, this damage is not just limited to tree fruits. Blueberries, strawberries in addition to many other crops can be damaged by fluctuating temperatures. In a nutshell, plants are like humans - they do not like to be jostled frequently from slumber. The years in which temperatures get colder gradually in the fall and warmer gradually in the spring are the normal state of things and very comfortable for temperature fruit trees. While swings from seasonal norms between the months of December and April in the northern hemisphere are potentially damaging and, as always, ground temperature is sometimes as important as air temperature as the temperature of the soil has a huge effect on growth and acts as a heat (or cold) "sink" or battery, in a different way of thinking. The bottom line? This is no fun when we get to this point.
READ MORE in Spring Frosts, vol. II!
Posted 3/31/2012 11:42am by Ben Wenk.
The "Never EVER Call it the Offseason" Blog
Weather Update

We're Honored with Two Awards

A More Updated Weather Update

Market Season is HERE? Yes... yes, it is!

Strange world we live in, aint it folks?

On the heels of the most difficult growing season for at least a generation, the strange bedfellow we aggie types have in Mother Nature has brought us a spring so early it's off the charts. Perhaps remorseful over all her perilous tricks last year, the Earth, it appears, is in a super big hurry to start a new growing season and strike the last one from our minds. We're cutting a pretty wide path these days, so I'd have to say she's been successful in doing so. Let's talk shop.

In early March, we got 17 degrees overnight. This past Tuesday the 27th, we got 26 at one farm, 31 at the other. Between these two events, we lost some cherries and a few apples. How many we lost remains to be seen. It's usually significantly colder in Wenksville than in Gardners, so I'd spent most of the day thinking we're ok. Unfortunately, the danger still exists to lose our crop because the spring is SO early. How early?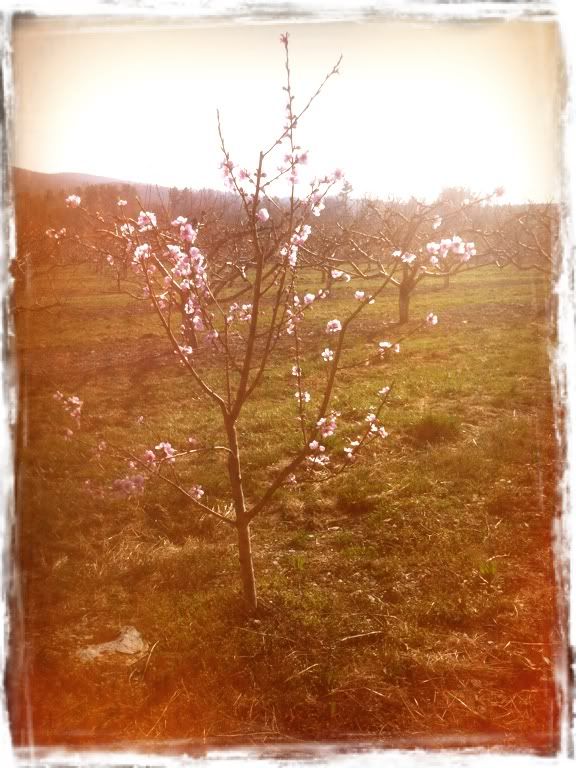 Well, when we look at insect lifecycle models we talk about a unit of measure called degree days which, without getting jargon-y, is essentially a measure of accumulated temperature - I believe it's hours over 43 degrees. At any rate, as of the third week of March, degree day accumulation was similar to other years... in June.

Just spoke with one of the men who sells us our mating disruption today. He covers an area spreading from Winchester, VA to the escarpment-ringed Niagra region of Ontario. The bloom period over this latitudinal range is usually six weeks, as in bloom starts in Virginia normally in mid March and starts in Canada six weeks later. This year, that gap is three weeks! Which, if you think about, means many of the crops on the East Coast will all ripen at the same time, negatively affecting the prices farmers can get for their crops (and making us all the more appreciative of the fact we can sell them directly to you and not on a flooded wholesale market)!


Other sad news, the strawberries were a complete loss - root rot from the deluge this fall. Fortunately, we will be planting a spot three times larger than the lost patch this spring!

However, as with everything in the farm business, there's a silver lining behind every cloud. Should we have a crop - still touch and go for another month, this crop will be early which is probably good for everybody. The winter was so mild, we didn't lose any work days to excessive snow and our pruning is right on schedule despite the early spring. What this means is we are able to plant in a very timely manner despite it being so darn early - also a very good thing.
Three Springs Recognized (twice) By Our Peers

While on the subject of good news, we recognized by our peers in the agriculture industry with two awards this winter - either of which would have been the highlight of the chilly months between seasons.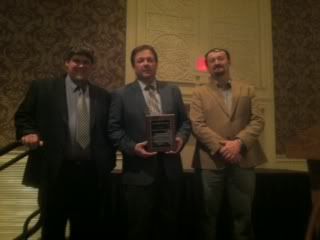 The first such distinction was my father David Wenk's recognition by the lifeblood organization of the fruit industry, the State Horticultural Association of Pennsylvania (SHAP), who chose Dave as 2011 Grower of the Year! Words can't describe what an honor this was for Dave who was able to collect himself on the podium long enough to express his gratitude for his brothers and sisters in the fruit biz, for whom he has such an amazing respect. Lancasting Farmer was on hand to document the ceremony. We were able to keep it a secret until the halfway through friend and PSU classmate Matt Boyer's presentation. He was surprised and honored for sure.

The second distinction belongs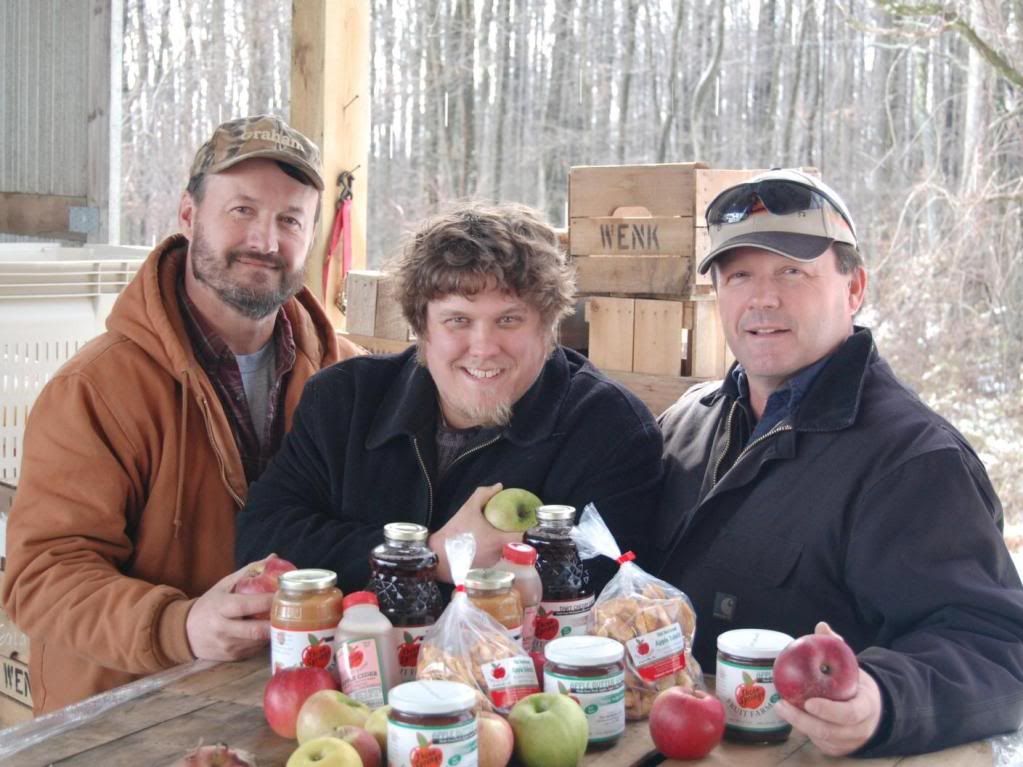 to all three owners; John (L), Ben (C), and Dave (R) who were awarded the honor of Master Farmers for the Mid Atlantic area in 2012. Just as was the case for Dave's "Grower of the Year" honor, it's the recognition of your peers that makes these awards special to us. While the SHAP honor was chosen by past recipients and board members of that tree fruit organization, the Master Farmer award can be offered to an operation growing any commodity and is chosen by the membership of the Mid Atlantic Master Farmers. The American Agriculturalist magazine provided coverage here. We're looking forward to meeting the rest of the Master Farmers at the reception in Harrisburg in early April.

Weather Update: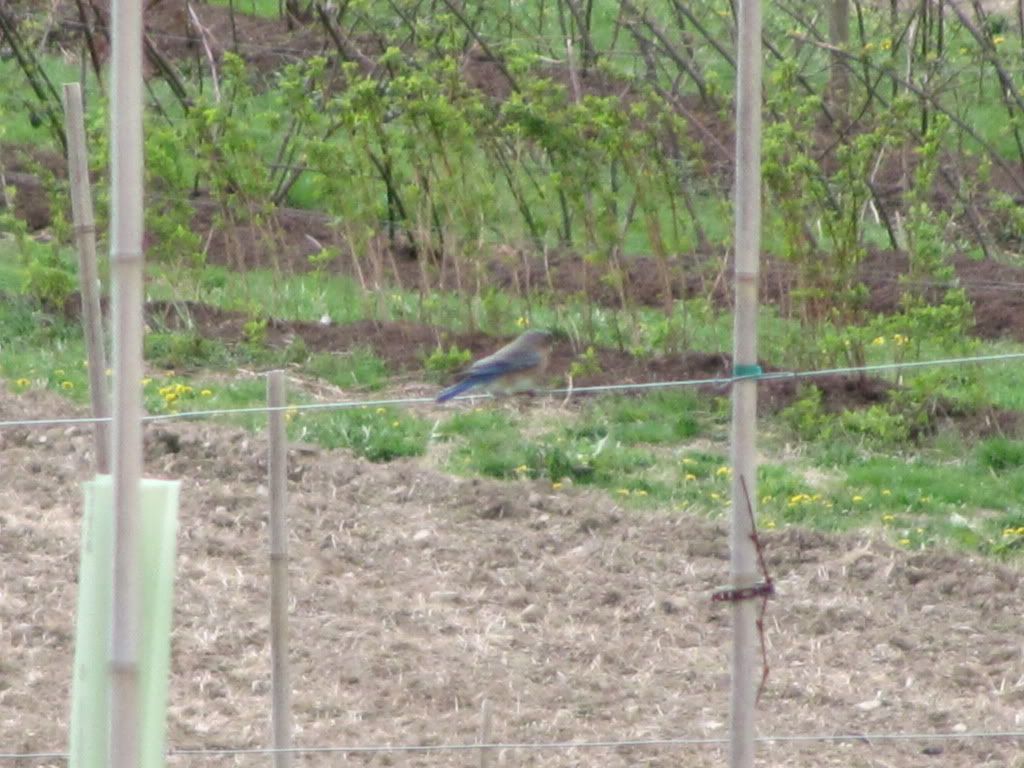 Things continue to play out like a Charles Dickens novel at Three Springs Fruit Farm as we get doused with another frost last Friday (3/30). Once again, the effects were isolated and mostly minimal. I'm learning that a lot of our neighbors did not fair as well. Some businesses are competitive with neighbors in the same field and I'm happy to say the fruit business, likewise agriculture in general - especially our alternative agricultural brotherhood, do not feel competitive with one another by in large. We ask that you send all of us some good vibes and warm thoughts as it's starting to look like some trying times for many of us in the fruit business in 2012, same as it was in 2011.


Final Thought: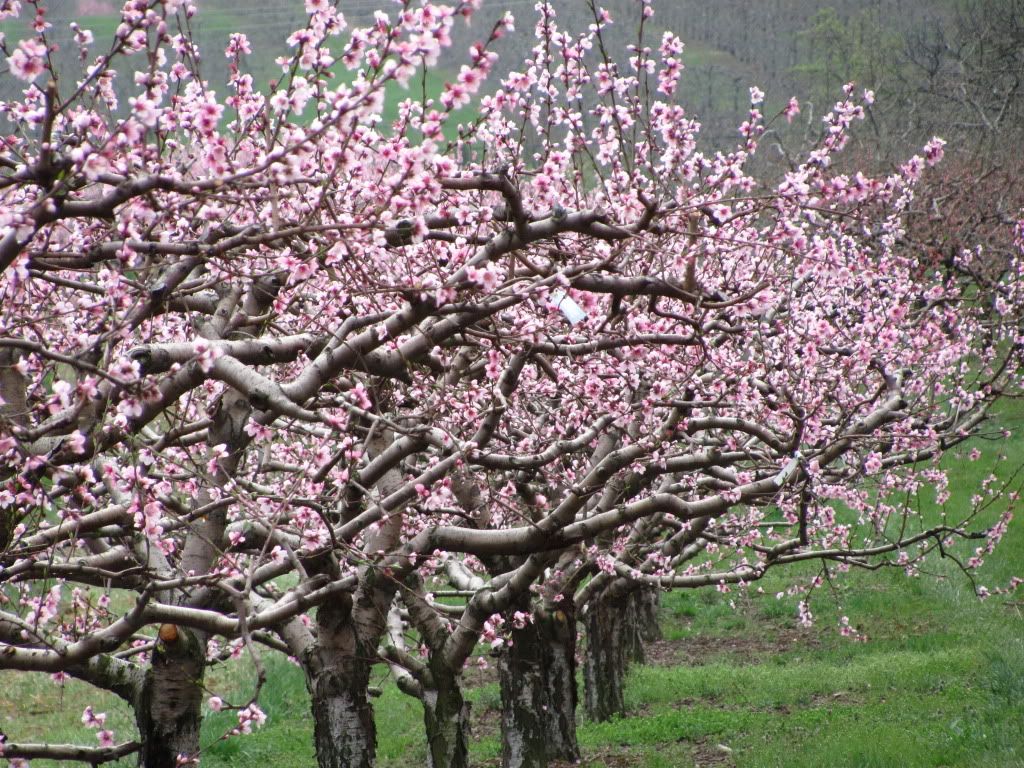 It's hard to believe that I'll be writing a weekly market update for DC NEXT WEEK in advance of Silver Spring opening 4/7... and that the update WILL include asparagus, AND possibly rhubarb. Heads up for the official Markets 2012 announcment very soon and don't agonize over any major changes. If you're expecting to see us, you'll see us for sure!