<< Back to main
A Guide to Heirloom Tomatoes!
Posted 8/18/2011 12:58pm by Ben Wenk.
From the most voracious tomato-vores, to the round-red only myopic heirloom neophytes - the following is designed for tomato eaters of every description so that you might pick out just the right 'mater for just the right particular occasion!


Brandywine (both pink and red) - "The Beginner's Heirloom"

Never tried the whole heirloom thing before? Here's a good jumping off point. Not nearly as misshapen and ugly as many, this tomato offers bold tomato flavor, adds beautiful color, but eats like a bolder, stronger-flavored version of many grocery store red slicers (ehhh, not my cup of joe). Snacking, salads, and sandwiches - any of your favorite tomato applications would be a great match for a Brandywine tomato, though sauces born of these fruits are sometimes sweeter than some prefer. So, in summary, if you're looking to dip your toes in the chilly pool of heirloom tomatoes, this is a fine place to start.

Cherokee Purple - "The Best"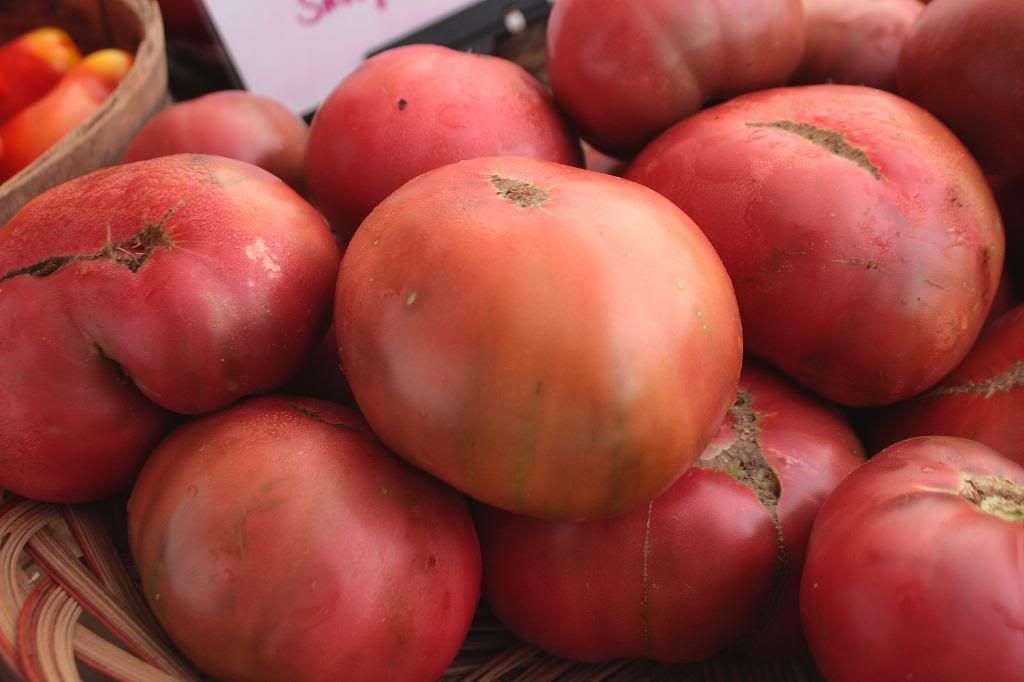 This is the one everyone's gotta have. The one I think I over-plant every year, only to run short on fruit in the height of season. Our best sellers, our most unique flavor, and our most frequently requested tomato, 'Cherokee Purple's origins can be traced back to the Native American tribe of the same name. The color of this tomato looks more brown or black to some than dark purple. It's flavor is (somehow) smokey and intensely sweet with plenty of acidified balance. This tomato is approved for all audiences and should be consumed immediately. There is no wrong preparation for this tomato - you name it, use one. Not to be missed.


Green Zebra - "Salt Shaker Snacker"

An essential part of any heirloom tomato garden, in my modest opinion, the 'Green Zebra' is one of the most unique and best tasting tomatoes out there. Most notably, if you are a tomato eater who is inclined to snack on a tasty 'mater in one hand with a shaker of salt in the other, many have found this tomato has the flavor of a salted tomato without the additional salt added! It is a bold tomato best for salads and snacks with a good hit of acid, adding counterpoint to the tomato's sweetness. If you've become a big fan of these, the next one to try is...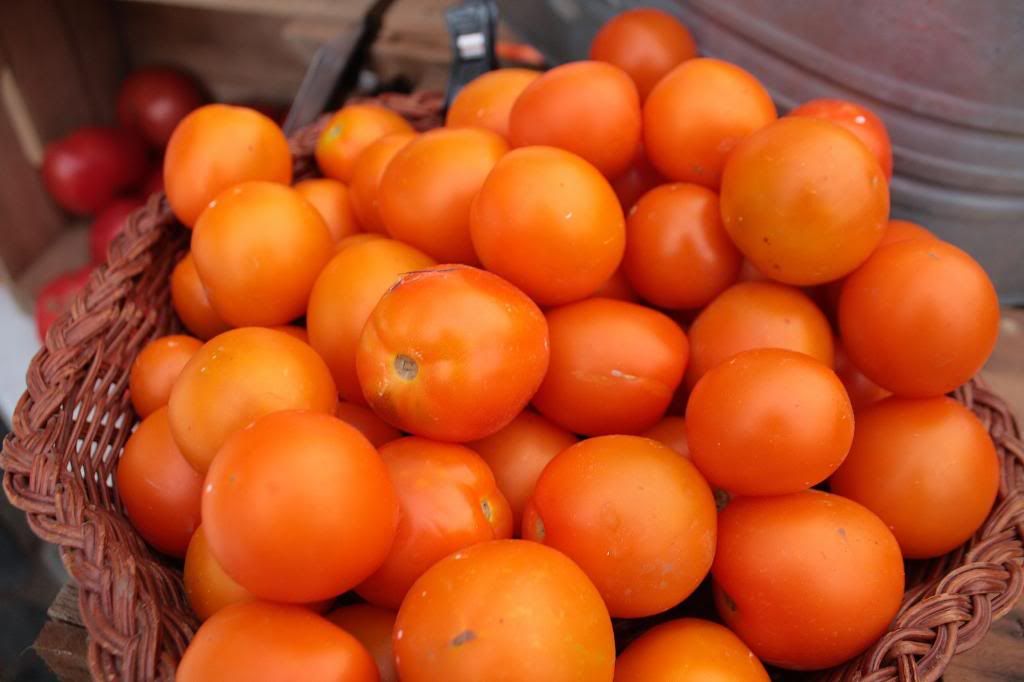 Jaun Flamme - "Zebra's French Cousin"

Bright, bright orange tomatoes of the same size of Green Zebra. These 'saladette' sized tomatoes, to use an industry term, are perfect size to cut in half and throw into your garden, caprese, or tomato salad. Very bold flavored tomatoes that compliment the Green Zebra nicely, perhaps with a little more 'spunk', we'll say, than it's not-easy-to-be green counterparts. These are another tomato that we get asked for by name (usually, "when do you have those 'French ones'") and, along with Green Zebra, are as pleasant a tomato as can be found for a tasty tomato snack!


Pineapple (and Kellogg's Breakfast) - "Sweet, Bacon-loving Tomato"

Pineapple are probably the most visually appealing vegetable on our farm... anywhere. They're just goregous (so says I). They are bright lemon yellow with red sunburst streaks running from calyx (bottom) to stem. Cut them open and they're even prettier - displaying a tie-dye swirl of yellow-orange-red colors that will stun and delight eaters of all ages. These fruit-inspired tomatoes, along with their light orange companion tomatoes, Kellogg's Breakfast, are sweet, sub-acid tomatoes. Similarly to the way white peaches are sub-acid and taste simply sweet, these tomatoes have lots of sugars and very little acid. For this reason, I really like these tomatoes for your summer BLT sandwiches because the sweet tomato flavor dances lovingly in time with a smokey, salty bacon. These are also a great tomato option if you do have difficulty with acidic foods.


Arkansas Traveler (not pictured) - "The Underdog Pseudo-Heirloom"

Developed by the Univeristy of Arkansas in the 1940's, these are the most unassuming tomato on our stand. It's very easy to walk past these, but those who have taken them home have been back for more the next week. Though not a true heirloom, they are non-hybrid seeds that crank off what I'd call "true heirloom flavor"! If you were to close your eyes and think about what a tomato tastes like, you'd come up with something very similar to how these tomatoes taste! They are uniformly round, uniformly pink, somewhat small, and have the most uniform stem pull out there for all you backyard tomato growers. This one will impress your friends. I'll tell you what else will impress your friends - a plate full of Arkansas Traveler tomatoes, sliced, dressed with good extra virgin olive oil and cracked black pepper. Snacking, salads, and sandwiches - these are small enough, you're less likely to cut one and have half a tomato in the fridge for a day or two - you'll use one at a time.

Pomodoro, Italian Piriform or 'pear-shaped' tomato (not pictured)- "Meaty, Beaty, Big and Bouncy"

Here's one that's a little meaty-er, a little bolder and more acidic - a beefsteak-y kind of tomato that can stand the heat in a hot kitchen! Also a fine option for sandwiches, etc - these also are great for roasting and sauce applications. A great way to extract more flavor out of these Italian tomatoes is just to add a little heat - right from the grill or a hot roasting pan. With seeds ordered from Italy, these will give a chicken cacciatore some real authentic Italian kick! Use in any recipe that calls for tomatoes to be cooked.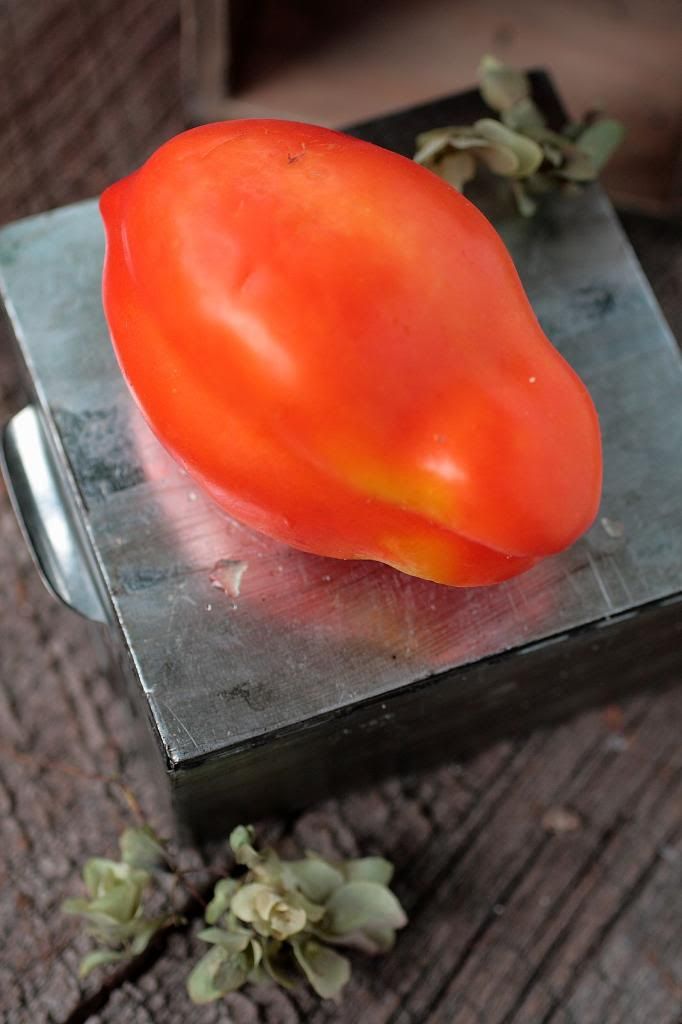 San Marzano - "You Can Do It"

Everyone sees these tomatoes in cans, sees them on their favorite cooking program in sauces, but so many people have never used them as whole tomatoes. Don't neglect this opportunity to elevate your pasta dishes from good homestyle to true restaurant quality by choosing the tomatoes they prefer in fine dining! Very hollow in the middle, these tomatoes are also born of seed ordered directly from Italy, making their resultant sauces authentically, kiss your mama delicious. They blend into instant paste for fresh sauce applications and they cook down into a truly tomato-ey "gravy" for your pasta and sandwiches. Get authentic - get the real San Marzano!