<< Back
Year in Review
Posted 3/21/2011 12:44pm by Ben Wenk.
The year 2010 was one for the books! It had its ups and downs and tested our mettle in a lot of ways, but we're all the better for it. There was plenty doing on the farm, where a new building project, drought conditions, lightning strikes, and stink bugs kept us manically occupied. Market wise, we tried new market endeavors at Silver Spring, H&HS building, Crossroads, Greensgrow Farms, and, briefly, The Piazza at Schmidts (was that all?). In other news, our apples were eaten by the President of the United States of America and we became our local industry's first Food Alliance certified fruit farm. Relive all this and more in our Blog Highlights 2010, farm photos, and press clippings from 2010. We'll also update you on our offseason and have a peek ahead into what to expect in 2011. Enjoy!
The Year in Blog!
The previous year in review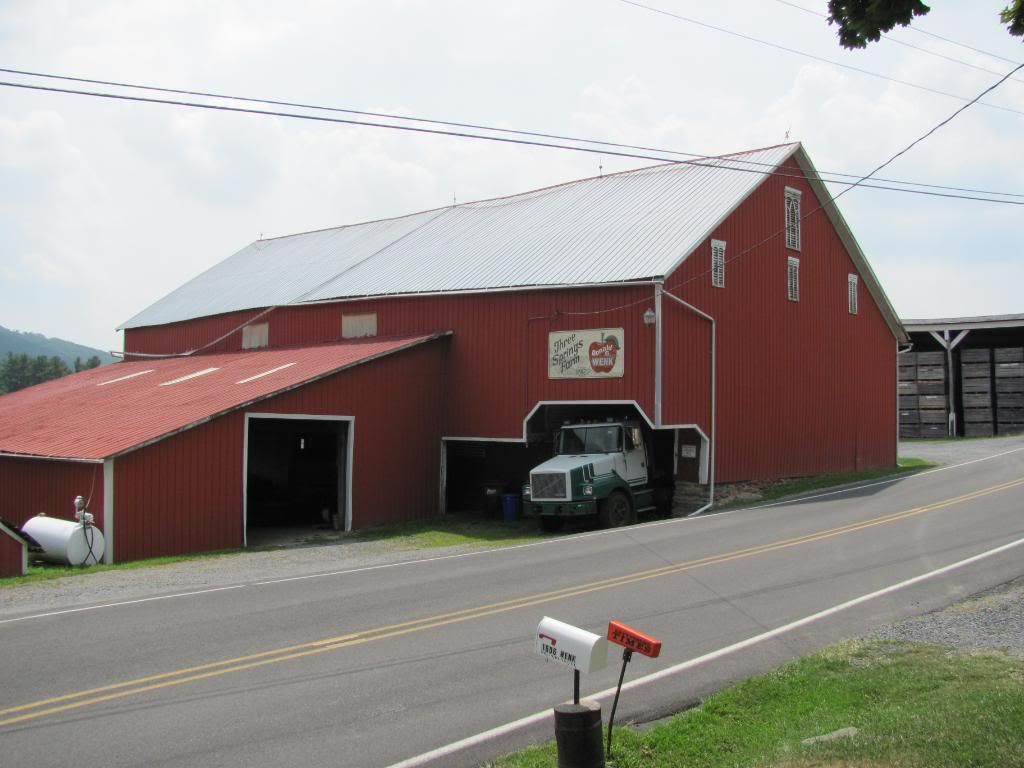 Crunchberry and Schnozberry Planting Season
Random 3Springs YouTube sightings!
Growing Greener: Lower Toxicity Materials
FAQ: Clingstone vs. Freestone peaches
FAQ: Are White Peaches Sweeter?
The Drought Breaks, Hear The People Singing!
Oddball Apple & Tomato Anomolies
The History of the much-malligned Red Delicious <check out a commenter from Spain!>
Barack Obama: Leader of the Free World, Eater of our Fruit
Ask A Grower: What's a cider, what's a juice?
2010 Baltimore Orioles Apple Lineup
2010 NL East Champion Philadelphia Phillies Apple Lineup
Three Springs' 1st PASA Field Day
The Year in Pictures
Press Clippings
Offseason review: Nov. '10 - April '11
We take offseason education very seriously around here, as this story suggests. This year, I wanted to spend some time quantifying that fact. Below is a listing of all the leadership meetings and educations meetings we attended this offseason between Thanksgiving and the first Silver Spring Market.
Haygrove High Tunnels Mtg, Dec (Lancaster)
Future Harvest CASA, Reisterstown (presenter)
PA Farm Show (54 man hours - Harrisburg)
3 Vendors Meetings for Farmers Markets
FarmCredit Ag Business Class - Webinar, 3 meetings
State Horticultural Assoc. of PA - 5 meetings combined
Mid-Atlantic Fruit & Vegetable Convention (Hershey - 3 days, presenter)
Pennsylvania Association for Sustainable Agriculture (State College, 2 days, presenter)
Adams County Fruit Growers Association Ann'l Meeting
County Ag Summit
half day meeting with our tree fruit extension educators (stink bug preparedness)
Pennsylvania Apple Marketing Board (2 mtgs)
Wholesale Marketing Seminar (Syria, VA)
We spend a lot of time fixing equipment as well, in addition to long term business planning (including planting plans) and getting our signs ready for market season - all those details. There's all kinds of training and permits to achieve before markets start as well. We do have time for leisure as well including events like Fair Food Philly's "Brewer's Plate" and the occasional music performance in the area. I like to play a little music too - I crammed over 20 performances into this little offseason window and visited some out of town friends.
Looking Ahead to 2011
A formal announcement of our market schedule for 2011 is forthcoming, but I'm willing to get the details out to those folks brave enough to keep reading this far down! We were doing too much last year, so there are a few changes. Here's the preliminary plan:
FRESHFarm's Silver Spring Market - back starting April 2nd (at the Panera location) and staying every week 'till Christmas
Headhouse Farmers Market - back and better than ever! Market starts May 1.
Kenilworth Farmers Market - back at a new, larger area of the same parking lot! Come "down the hill" from Stebbins to shop with us starting May 3rd!
Greenbelt Farmers Market - back in our corner stand again in 2011! Opening week is May 8th!
FRESHFarm's Health & Human Services Market - back with new times! Join us every Wednesday from 11am to 2pm over your lunch break under our new, shady tent! Market starts May 18th!
We made the decision not to return to Crossroads Farmers Market and Greensgrow Farmers Market in 2011. We like those markets a lot and we especially like the people operating them who are top notch and true, geniune local food advocates. It was a hard decision for us to make, but we felt we were over-extended and needing to cut back on our markets for this year. PLEASE, if you were a customer there, please continue to patronize these markets because they are terrific and run by some pretty special people. There are a couple other options we are considering for markets in 2011, but what you see could be what you get for us this year.
And with that, we're only 12 days away from the first Silver Spring market of 2011! It's about that time, folks!