<< Back
Orioles
Posted 9/30/2011 11:35am by Ben Wenk.
For we Orioles fans, game number 162 of a long 162 game season usually provides little more than a merciful end to another painful, disappointing campaign in the otherwise hollowed history of our once-proud favorite baseball franchise. And while I'd considered for several weeks not reprising last year's Orioles Apple Lineup given the contrast in the promise this squad provided in the spring compared to the crushing disappointment 2011 proved to be, I've thought better of it. After watching them completely change the fortunes of the 2011 playoff race (I'M LOOKING AT YOU, RED SOX!!!) in the American League in dramatic fashion, I've decided to go ahead with it, even if I'm only going to highlight the few players worthy of commendation for their efforts. It's still early in the apple season, afterall, and while this makes it hard to do an apple lineup for a team loaded with worthy stars such as the Phillies, having so few apples with which to draw comparisons is a bit of a blessing in the case of my much-maligned Orioles. So here we go! Keep the faith Orioles fans! Afterall, only the Cubs can have a bad century, our time will come!
'Honeycrisp' Apples - JJ Hardy, SS - I know Adam Jones won Most Valuable Oriole and I'm well aware that Weiters was our All Star representative. However, over the course of a long season, Hardy was our best player all the way around. Some could say it was his early season injury (along with Roberts) that led to that May swoon from which the O's never recovered. One of only three Oriole shortstops to hit 30 HR, I'm glad the O's have Hardy locked down for three more years. Honeycrisp will be around for another 100 years, but who's counting?

Three Springs "Must Eat" Apple Cider - Buck Showalter, Manager - Buck is generally a little more tart than sweet. Maybe that's why I like him so much. I like my cider as I like my big league managers... no, that sounds like a lousy joke. Buck will be actively fermenting over what went wrong for the long offseason.

'Jonagold' -

Mark Reynolds, 3B/1B - For the record, I'm going 1B with Reynolds, not 3B - too many errors. But aside from that, yes I'll hear your strikeouts argument, but his 37 HR is the most since Miguel Tejada. Additionally, he led the team with 86 RBIs. While he didn't offer much in the way of batting average or defense, he was more than adequate (in some cases better) in all other metrics as was Honeycrisp. He can't offer everything the Honeycrisp can, but he's right there in terms of producing a quality fruit.

'Gala'

Apples

-

Adam Jones, CF - Adam Jones should win another Gold Glove this year. I think his defense in CF was better than the year he did win the award. And aside from his road splits, you couldn't have asked for much better a year out of Jones. He's still learning and he's likely to progress more next season, but in a team full of rotten apples, he was a consistent, go-to big league caliber ballplayer. Gala, too, are dependable when choosing a sweet treat for the lunchbox!

'Fuji'

Apples

- Matt Wieters, C - After this season, I can say I'd proudly wear a "Matt Wieters took batting practice this afternoon. There were no survivors" t-shirt. He should be a fixture behind the plate in Baltimore for a long time to come. He improved every part of his game from an up and down rookie campaign and emerged as a bit of a leader as well. In terms of our best apples, there's only room at the top for four - Honeycrisp, Gala, Jonagold, and Fuji are our best ones. I could think of no better player to round out the top four. If you only had to pick four apples to eat the rest of your life, I'm bettin' Fuji would be on there!
'Macintosh' Apples - Jim Johnson, RP - I don't think I approve with the notion of making a starter out of Johnson, no matter how desperate we are for a good one. I prefer to think "hey, we've got one pitcher in the whole organization who fills a role and does it almost flawlessly and with great consistency". In other words, in a pitching staff full of rotten apples (expect me to regurgitate that analogy several times), don't fix the only thing not broken. JJ goes out there and makes the mit pop, throws strikes, and puts the pressure on the opposition. Macintosh don't hold their pressure as well, but you get the "pop" sensation when you bite into one.
'Jonathan' Apples - Zach Britton, SP - Hard to believe I fit a third pitcher on here, but
away we go. If you were to throw out Zach Britton's three worst starts (which were particularly bad), you'd think he was one of the better young pitchers in the league. Well, it's my opinion he still might be. He had a rough patch in the middle there but he started well, he ended well, and he led the team with 11 wins when the dust settled. He's got a bright future. If Jonathan sized more, they'd still be available at supermarkets, but it's just a eyeblink from national recognition. That's why your secret admiration of Jonathan is safe with me. Haven't tried one yet? They're the most underrated apple we grow.
'Gold Delicious'Apples- Robert Andino, IF - I can barely believe I just typed that. I'm really going with Robert Andino for the much-respected "underrated Golden Delicious" spot. I thought he was too good for AAA ball and never good enough to be an everyday player. I thought he had a bad attitude and would never improve his game. He proved me wrong. Reminds me of the market customer who heard some goofball farmer who kept assuring him or her that Golds aren't mushy, that they're really a terrific apple... gosh, what a coincidence! Also, who had Robert Andino at 139 games played? I would have thought 50 was a huge number.
'Grimes Golden'Apples - - Jeremy Guthrie, SP - This one is tough for me. Jeremy Guthrie deserves better. The O's aren't getting better anytime soon and Jeremy pitched
well enough to win close to 18 games for a good team. Instead, he lost 18 games for the Orioles because they don't play well behind him. It pains me to say it, but we need to trade Guthrie and free him from the prison known as my Baltimore Orioles. Similarly, we'll have no more Grimes Golden after this week's markets.
'Smokehouse'Apples - - Chris Davis, 1B - Ok, so he still looks better in batting practice
and in AAA than he does on the field but I have to put him in here based on potential alone. When he gets a hold of one, he smokes it (see what I did there?). This was a great pickup at the trade deadline without even talking Tommy Hunter and I'm anxious for what Chris Davis could do in a full season at the major league level. I'm also excited to harvest the Smokehouse each year, since each year I turn a few new customers on to this little known, heirloom tart-flavored apple!
'Red Delicious' Apples - Vladimir Guerrero, OF - It was great to see a Hall of Famer like
Guerrero in an O's uniform. What wasn't so great is that it was 2011 not, say, 2004 when we offered him the moon, the stars, and his very own life size Bromo Seltzer tower to haul back to the Dominican Republic only to see him sign with Anaheim. Similarly, Red Delicious look good in still life photography.
'Yellow Barlett' Pears - Pedro Strop, RP and Tommy Hunter, SP - I can't figure out which
one I liked better in his brief time here. Both were acquired from Texas in separate trades and did very respectable jobs in the bullpen and rotation respectively. If you acquire a Bartlett from our stand this week, you'll be the recipient of a more than respectable amount of flavor.

Available in bulk online.
'Bosc' Pears- Nick Markakis, RF - Had a forgettable first half but ended up with a respectable season. Many had suspected Nick was playing hurt through long stretches of 2011 and Manager Buck Showalter confirmed that suspicion in his post game address after the thrilling victory over Boston Wednesday night. It's a testimony to his grit and toughness. Bosc aren't too tough to eat. Truthfully, I find it a very easy thing to do. I ate one today - easiest thing I accomplished by a landslide. They do, however, have a little gritty texture.
see also, the 2010 Baltimore Orioles Apple Lineup
Posted 8/4/2011 1:35pm by Ben Wenk.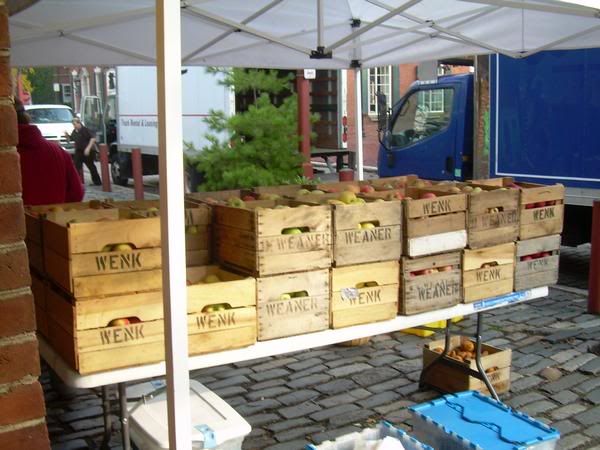 So here we are in our fifth year attending farmers markets! Hard to believe it's been that long in some ways. Quite a few things have changed since we attended our first market in 2007 (Schuylkill River Park, Philly - update your Three Springs Trivial Pursuit packs). More trivia later - back on topic, one of the things I've noticed as a trend at farmers markets is the renewed interest in food preservation, canning, and pickling. There's a canvolution taking place in this great nation of ours and it was with this in mind that we opened our online store, so that the most voracious, discerning, and preservation-minded among our customers could get, what we Central Pennsylvanians call, "good stuff cheap" (apologies). Are we on to something? We asked Headhouse Market frequenter Ben S. of Philadelphia how we're doing. These are his responses, printed verbatim with his permission.
THREE SPRINGS: What led you to order online from Three Springs?

BEN S.: I buy lots (and lots[at least I consider it to be a lot - I'm not sure how I compare to your overall customer base]) of fruit from Three Springs anyway, and when I want to make a bulk purchase it is quicker and simpler to do it online instead of through email. I like that I can pay via Paypal versus having to go the ATM to get cash. I just show up at the market, grab my crate and go.

They also have great deals on seconds which are great for ice cream, jam etc.

THREE SPRINGS: So! How'd that work out for ya?

BEN S.: Deliciously. So far this year I have bought strawberry seconds, sour cherries, peaches and peach seconds online and all have been good quality (seconds are obviously going to have some bruises etc) and worked well for my various projects.

THREE SPRINGS: What the blazes did you do with all that fruit?

BEN S. : My preferred breakfast is steel cut oatmeal with fruit, so I processed and froze a substantial portion of the fruit for breakfasts throughout the year. I also have started dabbling in making jam and ice cream this summer so that has been the destination for quite a bit of the fruit. My preferred end result though is pie. I like pie. (editor's note: We too love pie - pies of any description. Pies are commonly used to leverage bribes against us)

THREE SPRINGS: Would you order online with Three Springs again and, if so why (if not, why not)?

BEN S.: Definitely. You can get great fruit at a great price. That being said, it would be nice to have some of the other fruits listed up there as well - blueberries, apricots etc and in somewhat smaller quantities (half flat/crate instead of a full one) since a full crate can be a lot to deal with on a Sunday afternoon. Also, they sold strawberry seconds by the pound and I think that would be great for other fruit (apricots - hint, hint). Actually, forget the hint, do you have apricot seconds? Because I want them.

THREE SPRINGS: One non sequitur, have a guess - which of these people have not shopped with Three Springs: Pres. Barack Obama (Happy Birthday), Tony Danza of "Who's The Boss", "Angels in the Outfield", Phillies legend Greg "The Bull" Luzinski, or 1973 AL Rookie of the Year, Al Bumbry?

BEN S. : Definitely Al Bumbry.
So there ya have it - an honest testimonial from a brave Philadelphia pie lover who took the plunge, ordered bulk online with Three Springs, and was rewarded with sweet, sweet pie and the promise of many happy breakfasts in an otherwise cold, barren wintertime. This man could be you! Well... provided you've learned to put up with my bizarre sense of humor like Ben does - thanks man. Second thought, you don't even need a shred of personality to appreciate a deal this good! Generally not a problem at our stand, but not required all the same. If you have any further questions about online orders, just email me or add a comment. If you need good canning inspiration, check out Food in Jars. As a Biglerville native, Canners are very important to me.
And for your Three Springs Trivial Pursuit game, the correct answer is "Greg Luzinski". Orioles Hall of Famer Al Bumbry once left a complimentary voicemail on our office machine that I forbid anyone erase for at least eight months. "The Bull" is always welcome at our stand. We'll trade for BBQ.

Can it forward!
- Farmer Ben

Posted 10/7/2010 3:09pm by Ben Wenk.
In 2007, after several weeks of updating our farmers market customers with descriptions of apple varieties, I was struck with a nasty bout of writers block. I had to come up with a new way to describe these apples - a way my customers could appreciate. It was our first year of markets - all of them in Philadelphia where the hometown Phillies had just won the NL East after a legendary choke job by the Mets. With Phillies Phever in full swing, I described the apples by comparing them to Phillies players. It was a big hit (so to speak)! The Phils fought admirably in the playoffs before falling to the Rockies that season. However, emboldened by my 2008 Phillies Apple Lineup, the Fightin's went on to win the World Series. They made a return trip last year after another Apple Lineup. You'll recall how well Chase Utley played in October last year - no doubt miffed he wasn't included that season's lineup.
I've had a lot of fun with this over the years. Fast forward to this season, and the last few months of the Orioles season were more fun to watch than any in years! Buck Showalter got the team turned around and playing "The Oriole Way". So in homage to the revived Baltimore Orioles AND since it's brought so much luck to Philadelphia's Phillies, I give you the inaugural Baltimore Orioles Apple Lineup.
Honeycrisp - Buck Showalter, "skipper" - Our tree fruit ripened early this year, thanks to a warm spring and elevated soil temperatures brought on by a long snow pack. The Orioles, however, ripened late - thanks to the guidance of skipper Buck Showalter! Sure, there were key guys who got healthy when he showed up, but you can't say that for the starting pitchers who were, all the sudden, going 7 innings strong after he took over. Likewise, the only reason a lot of people show up for farmers markets in cold weather are crispy, sweet, tangy, Honeycrisp apples.
Jonagold - Luke Scott, DH/OF - Luke Scott was the MVP of the club this year and carried them single-handedly at times with an incredibly hot bat. Fortunately for all O's fans, the streaky slumps he's known for were fewer and farther between this year. Good thing Jonagolds aren't inconsistent! They have a flavor that ranks with Honeycrisp and a bold, syrupy flesh.

Gala - Brian Roberts, 2B - I'm sure Brian would rather forget this year, one marred by injuries and rehab. That being said, when he returned, he largely looked like the same player we've become accustomed to... a short leadoff hitter with speed who makes things happen on offense. You won't be offended by the small, sweet morsels in the Gala crates at market. They too are going fast!

Fuji - Nick Markakis, RF - One of the best defensive RF in the game, Nick had a steady year at the dish despite his power numbers suffering a bit. We're glad his contract was extended so we can enjoy above average play in right for years to come. Similarly, Fuji are not only sweet and crunchy for snacks and salads, they're known as GREAT keepers - lasting for months in refrigeration!

Nittany - Adam Jones, CF - It was another up and down year for Adam Jones who showed flashes of brilliance at the plate yet is still not quite putting it altogether. He's a little up and a little down, but he's growing! Nittany are a little sweet and a little tart. They're done growing... that's why we picked them!

Red Delicious - Matt Weiters, C - Weiters looks really good in the batting cage. We've been told for years now about how he's going to be a feared, middle of the lineup bat. So far, we've been a little disappointed. Red Delicious have always been a good-looking apple. Some people have told us that they're really good... there's still plenty of time for Matt to make a real 'Honeycrisp' oughtta himself, no need to go tart on him yet, O's fans.

Golden Delicious - Cesar Izturis, SS - Cesar is an under-appreciated member of the O's because he doesn't bring much flair. His offensive game is very average and he isn't a "web gem" highlight reel defensive star. What's underappreciated is he makes all the plays he should. All the best teams are built around strong defense up the middle... well, except maybe the Yankees (Jeter isn't 26 any more). Golden Delicious apples are also under-appreciated and dismissed as mushy. They don't make many "favorite apple" lists, but they are sweet, they are tangy, they have great texture and they've got a syrupy, winey quality when they are fresh!

Granny Smith - Jake Arrietta, SP - Jake has a great fastball and above average breaking stuff, but he's still a little green. Granny Smith have great texture and are above average for baking stuff... and they are very very green.

Empire - Brian Matusz, SP - Just a perfect example of the impact of Buck Showalter. All the sudden, the young lefty was pitching with confidence late into ballgames. Just what we like to see! In our Empire, we like to see a bi-colored skin with pretty white flesh when you bite in - I mean REALLY white! The flavor is a little more sweet than tart. If they call the Yankees The Evil Empire, I want to be sure to point out that all these apples have in common with the #*&$ Yankees is the state of origin.

Ida Red - Jeremy Guthrie, SP - Jeremy ended the year with a good run of starts. Had a few bumps along the way, but overall another very decent year for the righty who set a career mark for wins. He can really bring the heat when he needs to. Add heat to an Ida Red and you'll be remarkably surprised how well the apple maintains good texture and how the flavors brighten a little bit.

Rome Beauty - Felix Pie, OF - The ressurection project that is Felix Pie. Depending on who you ask, it might be over - he might be a bona fide big leaguer! He sure looked like one in longer stretches than ever before, and that's a terrific sign. He always had all the physical ability in the world. Oh wait, I should explain how Felix "Pie" is like this apple... are you really going to make me connect the dots for you?

Bosc Pears - Kevin Millwood, SP - It all went pear-shaped for Kevin Millwood in 2010.

Cameo - Ty Wigginton, IF - Ty made a cameo appearance in the 2010 All Star game, as the O's representative. Actually, the way he was hitting back then, if that goofball manager of the Yanks wouldn't have pinch hit that piece of garbage Nick Swisher and let Ty hit, we might have won the thing... anyhow. He lost his All Star form in the second half. Cameo lose a little of their tartness in storage and are a teriffic eating apple fresh or in the spring!
Mutsu - Koji Uehara, CL - I don't know if he's clumsy or just has bad luck, but I'm glad this Japanese import got healthy in time to contribute because he really attacks hitters coming in out of the bullpen late in games. Mutsu are another Japanese import - a late ripener with good tangy zing, attacks the palate!