<< Back
Honeycrisp
Posted 8/1/2013 10:33am by Ben Wenk.
We were honored to host the preeminent International group of tree fruit professionals to our farm this July, 2013. Here's a slideshow of some photos documenting the tour!
Posted 8/25/2011 1:16pm by Ben Wenk.
Folks, it's only under rare and unusual circumstances that I would even consider what I'm about to announce, but I hope folks will understand that these are the very circumstances with which we are faced.
Three Springs will not be attending Sunday's Headhouse Farmers Market or Greenbelt Farmers Market 8/28 in light of the expected landfall of Hurricane Irene.
Philadelphia customers are encouraged to find your favorite Three Springs peaches and apples at any/all of the following fine retailers: Weaver's Way Coop, Sue's Produce in Rittenhouse, GreensGrow Farms, Green Aisle Grocery, and Harvest Local Foods. Please note, an announcement regarding the status of Sunday's Headhouse Market in general from The Food Trust is forthcoming. The market itself could remain open - please check their Facebook, Twitter, and mailing lists for up to the minute details.
Greenbelt customers are encouraged to visit us this Saturday at Silver Spring Farmers Market, as well as next Saturday at Silver Spring Farmers Market between Fenton and Georgia Avenues on Ellsworth Drive, downtown Silver Spring. The Greenbelt Farmers Market does not operate the day before labor day. Please be aware also, an official decision regarding the status of the Greenbelt Farmers Market in general is also forthcoming and I encourage everyone to await offical word from their Facebook, Twitter, and email correspondence regarding whether or not the market proper will be open this Sunday.
I felt like I had to be proactive in regards to making a decision for our farm in advance of these official decisions regarding weather cancellations because I needed to devote the extra attention to getting the most out of our Saturday markets as a result. I also feel strongly that these markets will not be open, having seen the updated path of the Hurricane.
I don't need to explain to folks that, with the additional cancellation of our Wednesday Health and Human Services market due to after effects of the earthquake, that having four markets in one week rather than seven at the heighth of our season is certainly a step in the wrong direction. Furthermore, the winds and weather resulting from this Hurricane are likely to affect the quality and supply of everything we grow on our farm including, notably, our Honeycrisp and Gala apple crops, the lion's share of which remains unharvested as of right now and is likely to become "windfalls" - an unmarketable product.
Ouch.
Keep smiling, folks. It's bound to get better. We've endured freaky weather before.

PS, if someone is willing to make the jump from "plague of locusts" to stinkbugs... plus the weather we're having... nah, just a coincidence!
See, smilin' already!
- Farmer Ben

Posted 7/8/2010 12:14pm by Ben Wenk.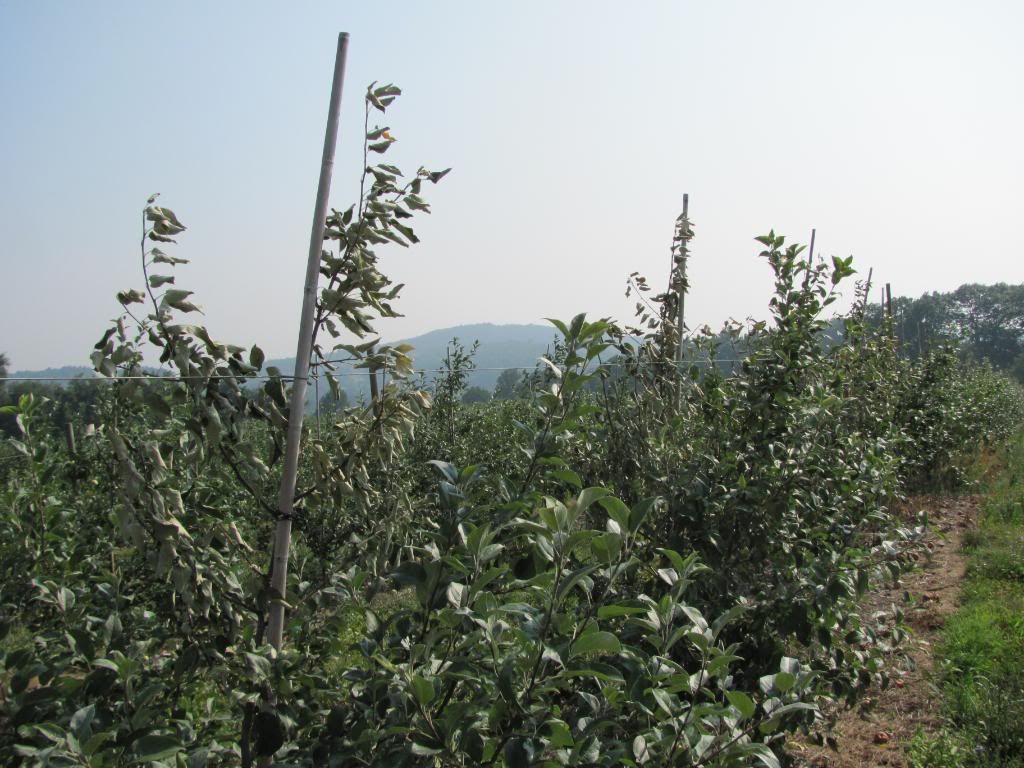 Picture, if you will, another hot day at Three Springs Fruit Farm. Temperatures are nearing 100 and you have workers to check on before it gets too hot to continue. My Uncle John found himself in such a situation earlier this week. You're driving up to the big Honeycrisp block in Gardners to check up on somebody when you're faced with this image (left). The tops of your trees are dying! Just the tops, just one row. Your heart sinks and you start thinking what you might have done wrong. Is it fireblight? Mildew? You see the end post of the trellis is split from top to bottom and you wonder - did someone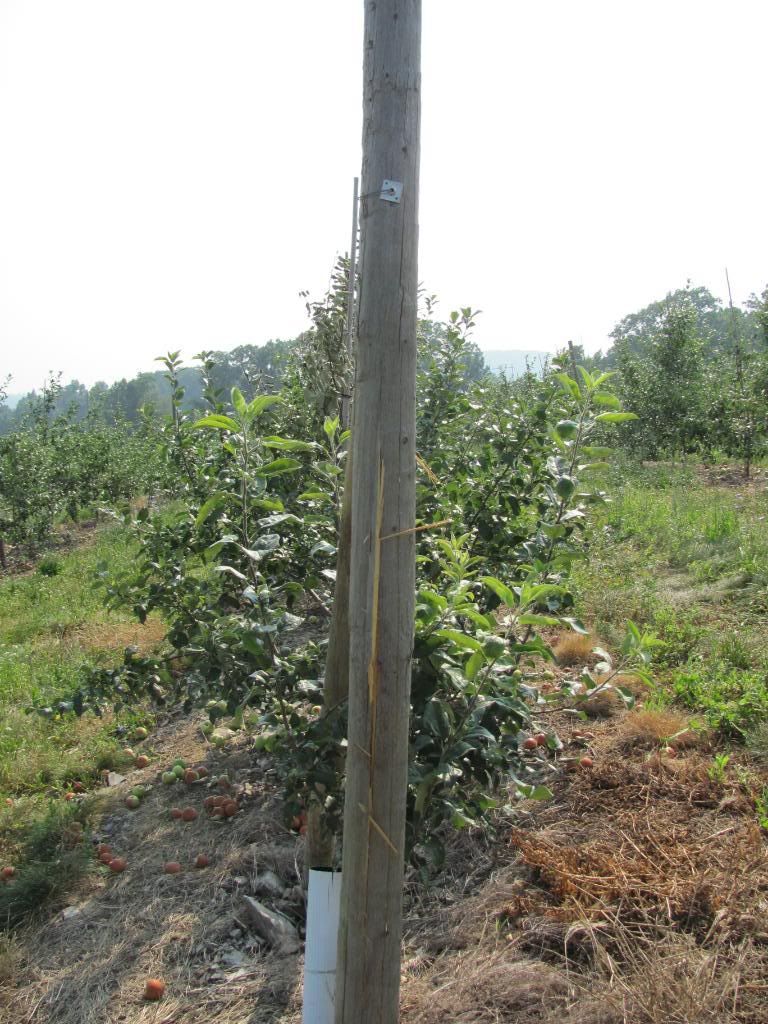 back in to my trellis? Did someone turn too short and whack it with a tractor or mower? Did that uproot the trees? The more you investigate, the more you start to discover that, hard as it might be to believe...
These trees got fried by a lightning strike! AC/DC might liken it to being "Thunderstruck". Either way, it's the only solution for this anomoly. The row is at the top of the hill (shortest distance for lightning), it's isolated to only one row, and it shattered every support pole and bamboo conduit in the row. The singed leaves are isolated to the places closest to that high tensile wire. There are no signs of impact on any of the split support poles - instead, they look like they were split by the maul-weilding cousin of Thor himself; right down the middle, vertically! Here are more pictures documenting this oddity! These Honeycrisp trees are going to be stunted for life. It's only a bit of consolation to have an interesting story to go along with it.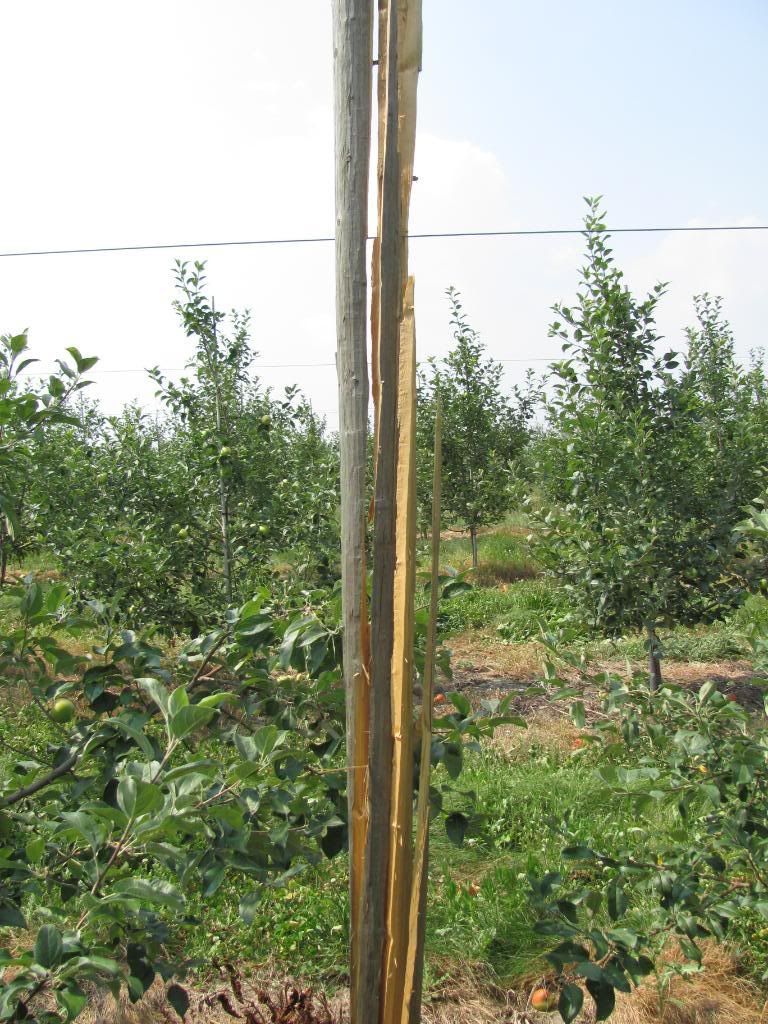 Here's the latest shot... things didn't "turn out the way we wanted them to"... see before shot on the left and after shot on the right... dead trees.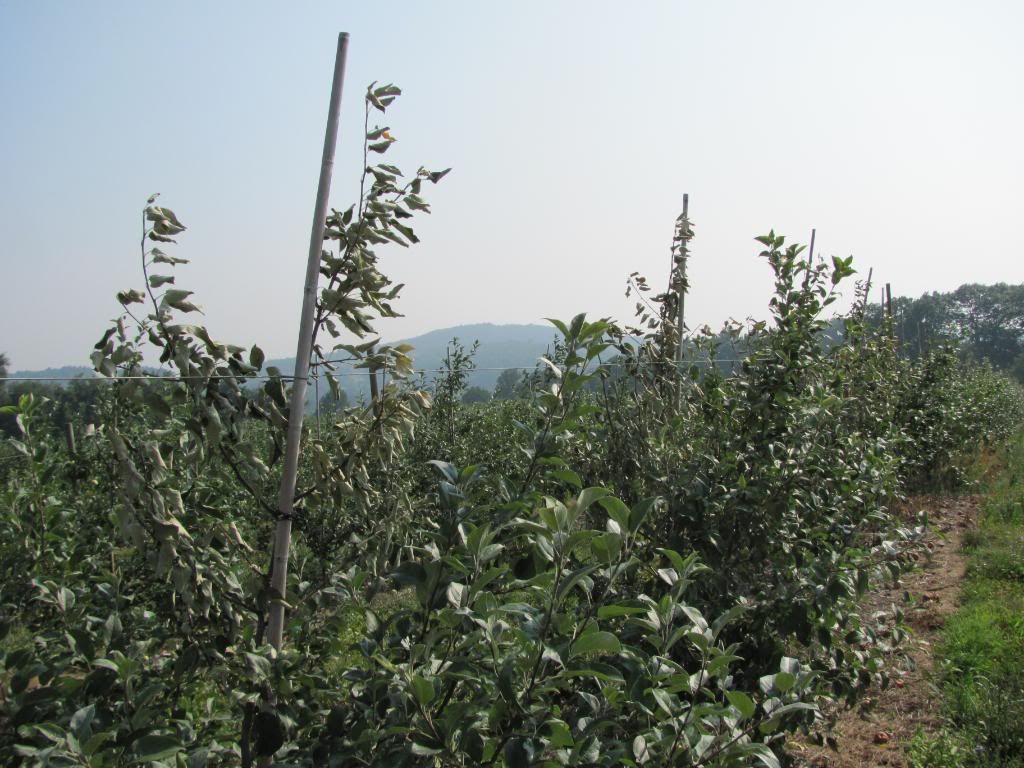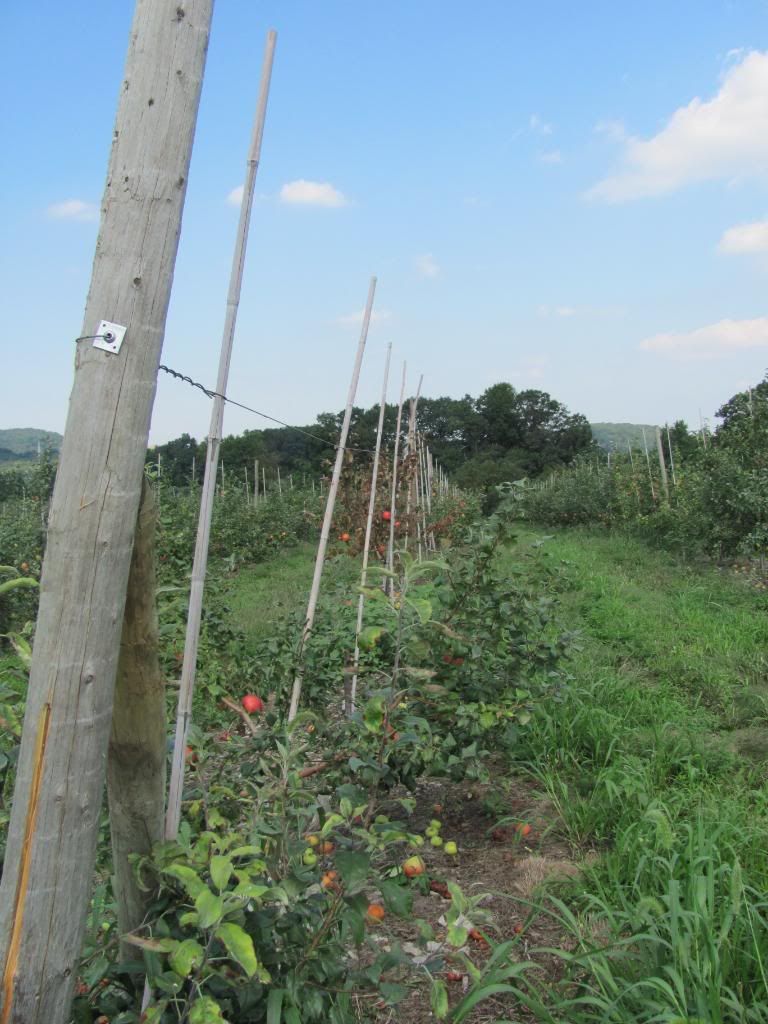 Not to be a downer, I wanted to include this shot - (courtesy @OurPeachCrop) shows some large Honeycrisp apples coloring up nicely. More importantly, the apple on the left was DELICIOUS! It was still just a hair underripe... so patience, folks. Next week!