<< Back
Dust Bowl
Posted 7/31/2012 9:29am by Ben Wenk.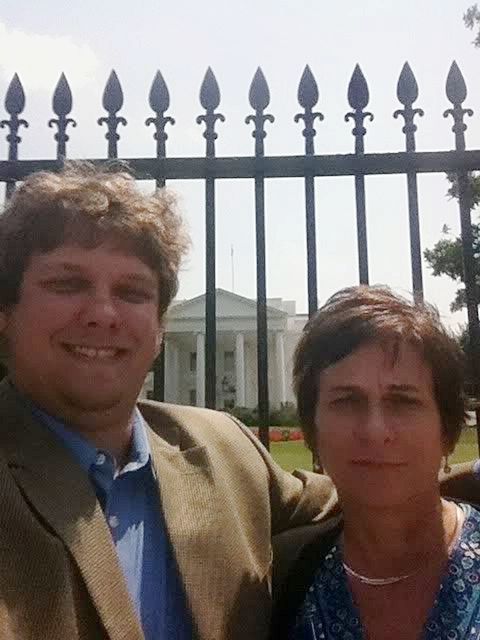 No two weeks are the same on our farm - not on any farm. However, the thing that will differentiate last week from the rest is particularly noteworthy. In case you didn't catch it (on this Facebook post), Mom and I were special guests at a National Endowment for the Humanites event at the White House which included a preview of the new Ken Burns documentary "The Dust Bowl", followed by a great panel discussion! My mother and I, a daughter and grandson, respectively, of a Dust Bowl survivor will remember this unique opportunity for a long time to come.

My maternal grandmother, Dorothy Hiestand Cogley, rarely talked about her youth growing up in Ayr, Nebraska - a tiny farming town South of Omaha. It was certainly an impactful beginning to the amazing life she's led, the remainder of which will have to wait for a future blog entry. However, when I sit down to visit with my grandmother, still with us and healthy at 92, she shys away from her agricultural upbringing - her father's farm in Dust Bowl era Nebraska where she lived until 15 years old. It was at that age the family pulled up their roots and moved back east with family to Lancaster County PA - fleeing the dust clouds, like so many other Dust Bowl refugees. After viewing the excerpts from the stirring Ken Burns documentary, set to air this November, I'm learning more about her apprehension - more than she was willing to share with me or her children.

Fast forward another 75 odd years to once upon a time called right now!

They say that those who do not know their history are doomed to repeat it.

As the demands on agriculture mount in the face of worldwide meteoric population growth and other nations with less oversight become bigger players, the timing of the new Ken Burns Documentary "The Dust Bowl" couldn't be more appropriate. Moreso, the airing date of this documentary, November 18th and 19th on PBS, should be right about the time our country's current drought situation (the worst since the 1950's) should begin to affect food prices.

Watch The Dust Bowl Preview on PBS. See more from The Dust Bowl.

By in large, the US has learned the lesson of the Dust Bowl, but it's no time to be resting on our laurels - much still needs to be done to increase soil conservation in our country. The point that rang truest in the terrific panel discussion after the screening was how important it is to acknowledge that the decision to plow all that badland ground to feed our soldiers was, at the time, made with altruistic goals and what was thought to be sound reasoning at the time. We can't become so haughty as to assume we've got mother nature figured out and we can use her for our own devices.


So you're here reading the blog of a small family fruit farm in Central Pennsylvania, so it's safe for me to assume you've already recognized how important agriculture is to this nation. Also, how important GOOD agriculture is to this nation - how important it is that we, as farmers, do right by the lands that we proudly nurture. I've struggled with the thought of me, as an American Farmer, being responsible for feeding the world. I'd prefer to feed you guys - my friends and neighbors. But to hear our excellent panel (author Timothy Egan, genius Lester Brown (he truly is), farmer/conservationalist Clay Pope; moderated by FRESHFarm's Ann Yonkers) speak about the short-sightedness exhibited by the agriculture of other nations (not to keep singling you out, China)... I've been reinvigorated by this notion. Don't expect us to double our acreage or anything like that; if anything, we'll likely get smaller as we go along. But! The world needs America to keep farming, not just our friends and neighbors. And while much of our food remains in our friendly 100 mile radius, great vision is needed to balance future food demands with proper soil health and water conservation, especially in consideration of energy and fossil fuel demands. It's a hefty task, but someone's got to do it.

It was the worst man made natural disaster in the world's history. It was the biggest real estate scam in our country's history. It killed children and displaced families all over the midwest, almost turning the entire region into an uninhabitable desert. It also served (in my opinion) as the impetus for the first great agricultural reform, the formation of what would be the USDA Natural Resources Conservation Service (NRCS), thank you Hugh Hammond Bennett, in The New Deal. If you find this compelling (as well you should) or you desire the kind of inspiration this topic provided me, Ken Burns' "The Dust Bowl" airs on PBS November 18th and 19th.