<< Back
CCD
Posted 7/14/2011 9:19am by Ben Wenk.
Bee Blog-A-Loo-La!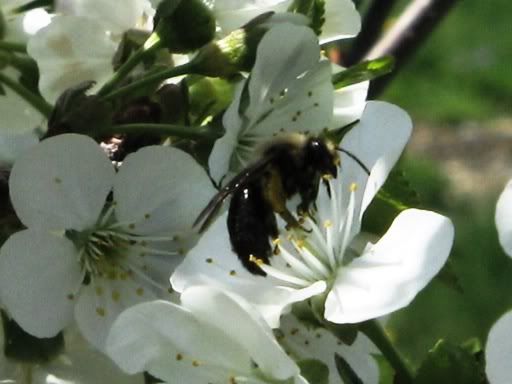 That's right, we're talking family 'Apidae' on the blog today. The whole food system breaks down without bees and their closest relatives out there spreading pollen and getting fruits and veggies blossoms pollinated. It's a tale of human-subhuman symbosis with a sweet payout for the whole human race. Let's learn about honey,
pollination, CCD, and native bees and remind ourselves that we humans aren't so keen and evolved to overcome our reliance on a bunch of trained, eusocial insects.

Without getting into the nitty gritty horticultural details, all varieties of apples, many sweet cherries, many plums, and many pears all need a second pollen source to be fruitful. That is to say a whole block of Jonagold apples will hardly yield any fruit at all without a second (and compatable) pollen source planted in proximity and, of course, our friendly bees for effective pollen
transmission!
When I was a youth and our farm was smaller and nearly entirely apples, we rented a lot of bee hives from our local apiary. I can remember these days well, since Dad would always meet the "bee man" after dark when the bees were docile and less active to strategically place them where they'd most effectively pollinate our orchards. As our farm progression continued over the years and our crops became more diversified, the peaches, apricots, cherries, and more recently berries, veggies, plums etc. are blooming earlier than the apples. By planting more diverse crops that bloom over a longer period of time, we saw more pollination occuring from native and feral bee populations because we were were providing more food for them over a longer period of time.

And about this time was when Colony Collapse Disorder (CCD) became a national
problem effecting Honeybees. Fortunately, our bees were raised locally and these
beekeepers (or at least ours) had little problem with CCD - these bees never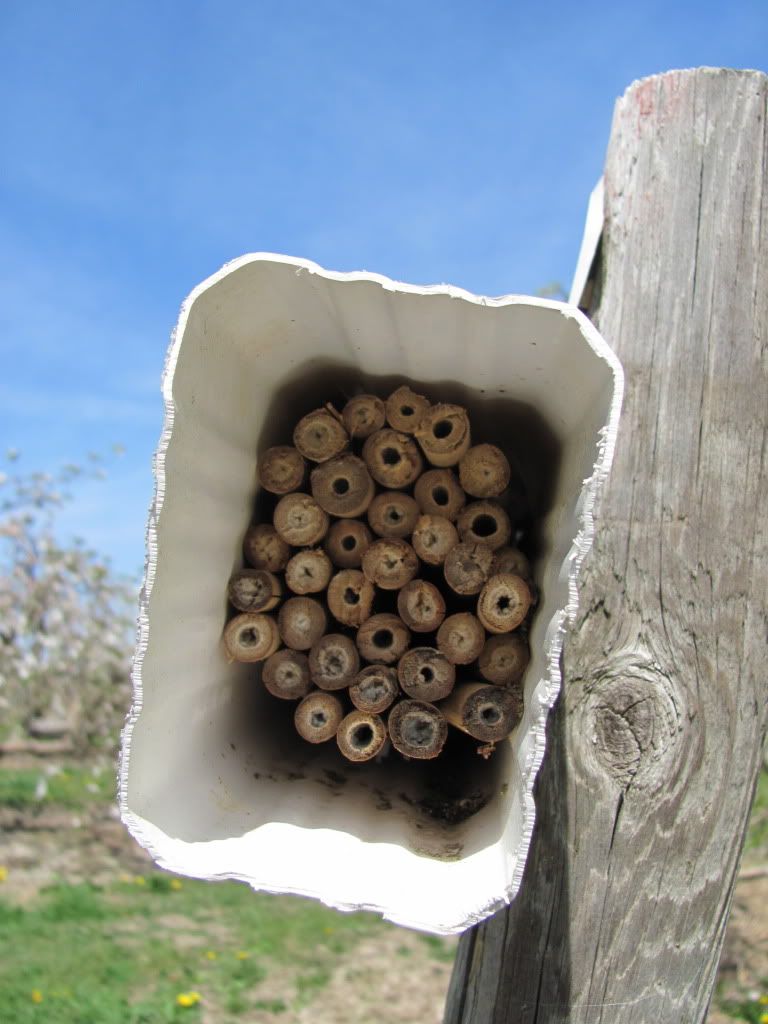 travelled far enough to contract the effects from other populations and since we
never spray insecticides during bloom, they weren't exposed to anything harmful. So while the rental prices went up, as they should, we had been building native
pollinator populations, rented less bees and continued to have pollinator success.

So when my former boss and Penn State Entomology Department researcher Dr. David Biddinger (see video) at the local Fruit Research and Extension Center needed somewhere to establish a trial to assess different structures that might attract native pollinators, we leapt at the chance. Now our orchards are being graced by a multitude of different pollinators. Our veggie patch - the same! And, as part of our commitment to continual improvement of
practices with the Food Alliance, we have established plantings of wildflowers to further increase these native bee populations. We'll also be maintaining our own bumble bee populations to help pollinate our sweet cherries.

So as you can see, there's more to the bee than that sweet, local, allergy-fighting, biscuit-sweetening honey that we all know and love. And I hope I've impressed upon everyone just what a treasure we have in bees. They are out there every year helping our silly human race feed ourselves and sustain ourselves for another day. So small, so vital, so grossly underappreciated - three cheers for
bees!
check out more on Three Springs Fruit Farm Growing Practices or for further, in depth topics:
Growing Greener Blog Series: