<< Back
CA storage
Posted 10/13/2011 11:30am by Ben Wenk.
So I'm mixing my Alton Brown references with "The Tick", and no, I don't expect anyone to keep up with this nonsense. I'm just be preparing you the reader for my own level of acute, scientific detail I've come to love from Alton Brown as the blog moves along.

On to our question! This one is a very common question, most recently posed via our twitter account by New York-based food blogger NutmegNanny via our good friend Michelle at eatniks:

"@NutmegNanny Can you store apples in the fridge?"



Not only can you store apples in your refrigerator, it is my recommendation that you do! Unlike other edibles - onions, potatoes, eggplant, and tomatoes come to mind, that will endure internal cellular damage and flavor alteration when stored at refrigerator temps, apples thrive and endure in your chilly frigidaire (as do peaches, but that's another blog for another time).

While I endorse refrigeration as the preferred method of apple preservation, it does come with a caveat or two. As the aforementioned Alton Brown frequently reminds his audience, refrigerators are often victims of cross contamination and "flavor blending" and apples are no different. The best spot for your apples is in the crisper with other veggies and fruits such as greens or carrots, geographically separated from proteins, dairy etc. Apples are not spoiled by moist environments the way other fruit and veg might be so no extra effort is required to remove your fruits from moisture. Truthfully, a little moisture will help keep your apples fresh as dry atmospheric conditions in your fridge can cause moisture to be pulled from the fruit - you'll discover this in the form of wrinkled apple skin after prolonged fridge time. Cut apples are not to be reinstated back into your fridge - seems obvious, but worth mentioning.


How long is too long? It's the perfect follow up question, so let's have a look. A good answer is two weeks but it's not a "catch all" answer. Trutfully, so many environmental and cultural factors go in to the longevity (or lack thereof) in apples, that it's hard to pin down in a neat and tidy way. Each apple variety (and there are over 4,000) has its own quirks in regards to storage life. Fuji, for example, have a history of success in long term storage - maintaining crispness for months in your refrigerator. Some heirloom or heritage apples, Smokehouse for example, while delicious, do not keep well. The amount of moisture and rainfall during the growing season and the distribution of rainfall over time plays a huge factor in certain apple varieties keeping better in some years than others. Jonagold, one of my favorites, is a notoriously inconsistent keeper. Some years, they are great keepers, others not so much. Honeycrisp (everyone's favorite) is so finicky a keeper that the way we store ours is just about the only thing our farm values as a "trade secret" that you can't get out of me. Suffice it to say we go to great lengths to store Honeycrisp differently to preserve their awesome eating qualities. As chronicled in an earlier blog, apples stored in controlled atmosphere can maintain crispness for nearly a year without any sort of bizarre witchcraft (thanks to land grant ag research, of course). And while "storage apples" are representative of the fine work we do on this farm and I'll happily put our good name on them, I think we all agree - the closer to harvest the better. As it is with apples, so should it be with all of our eating.


Historically "Good Keepers"

Fuji
Arkansas Black
York Imperial
Cameo
Golden Delicious
Rome Beauty


Historically "Inconsistent Keepers"

Gala
Jonagold
Macintosh
Smokehouse
Jonathan
Red Delicious
see also,
Ask a Grower I, Roots and Scions - Apple Tree Anatomy
Ask a Grower II, Granny Smith Apple Seeds - Apple Tree Propagation
Ask a Grower III, Clingstone vs. Freestone Peaches
Ask a Grower IV, The Cider Blog - What's Cider, What's Juice?
Ask a Grower VI, Grafting - Part Historic, Part Horticultural Wizardry

Posted 5/14/2009 8:58am by Ben Wenk.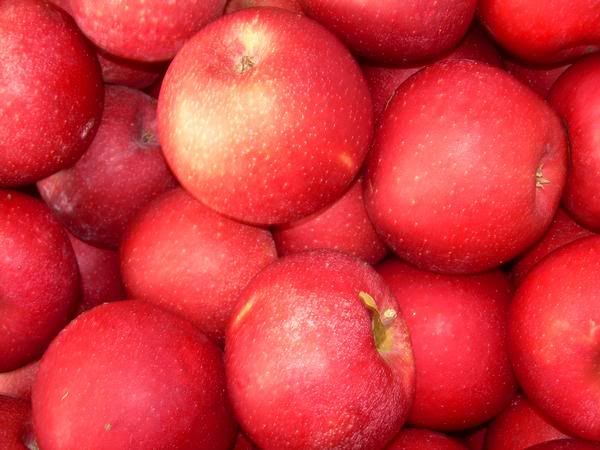 It's no secret. The best apples you'll ever have will be eaten in season, picked just before their arrival at your favorite farmers market. While your appetite and enthusiasm for apples might not be as seasonal as the crop itself, don't worry! Research has led us to a great discovery in Post Harvest Technology that will maintain a respectable level of crispness nearly the whole year round! This crispness is achieved through Controlled Atmosphere (CA) storage.

Controlled Atmosphere, or CA storage is used all over the country to improve the shelf life of fresh apples. Apples, as you know, can continue ripening after they're picked from the tree. They absorb oxygen through their lenticils (little dots on their skin) and release carbon dioxide as they convert their starches to sugars. "Natural Air" cold storages are kept at 33-35 degrees Fahrenheit with approximately the same atmosphere as the air we breathe. CA storages are kept at a similar temperature but the atmosphere is altered to remove all but 1 to 2 percent Oxygen when it would normally be 21%. This keeps the fruits from respirating and maintains crispness.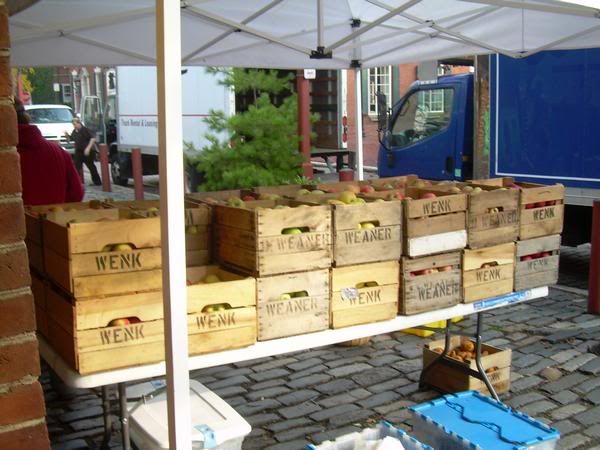 So if respiration is converting startches to sugars, maybe I want a sweeter apple? Let it go - don't mess with it! To the contrary, you want those sugars to be put there by the tree! When the apple loses starch, that's when you end up with those dreaded mushy, mealy apples that, much to our chagrin, commonly end up on grocery store shelves. The answer to this problem is simple (and you know it already): Buy Local! You may not always find Three Springs Fruit Farm apples in the cold winter months, but you can always find Eastern apples! I'm betting you'll taste the difference!
Some Historical Perspective
For your own amusement, below are a few pictures of how apples used to be stored before they were processed into juices and sauces. We have no dates for these photos, but our estimates would be the late 1930's and early 1940's.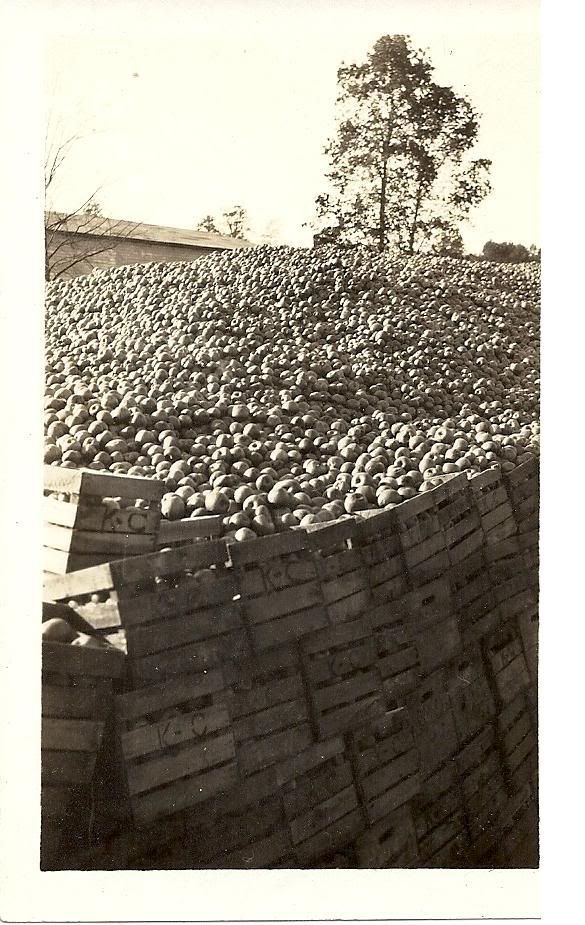 The fruit would be picked into crates, stacked, and heaped up.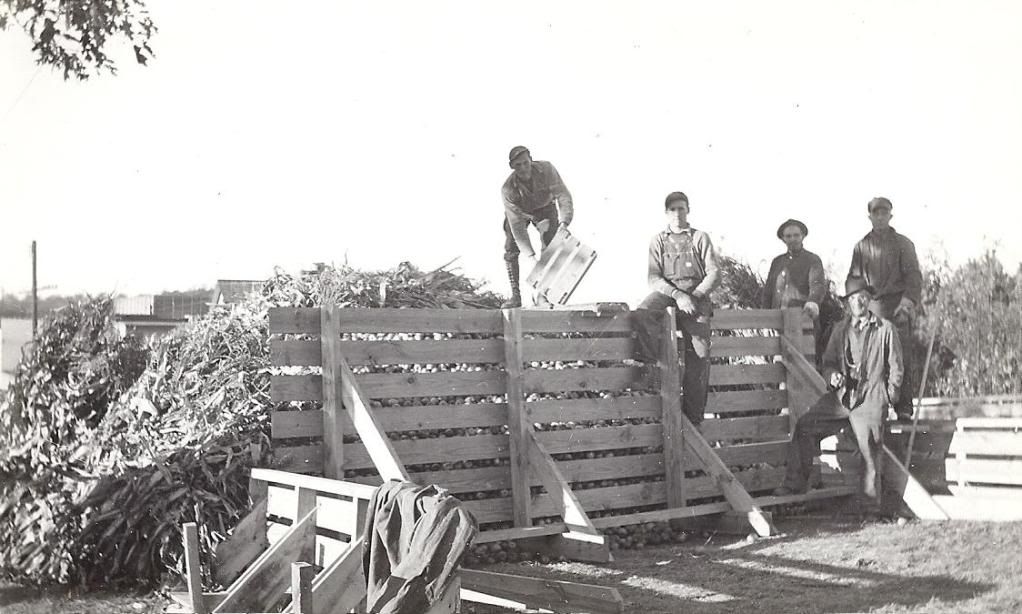 The fruit was piled up between the makeshift walls you see above.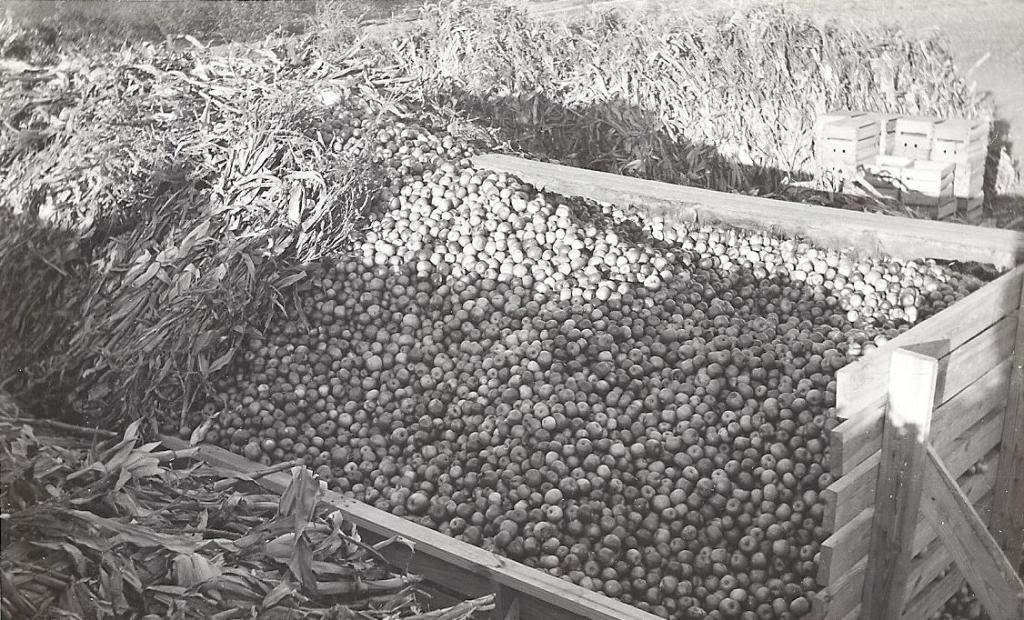 Corn stalks were added as insulation. They would trap the cool evening air underneath and keep the apples cool... "back in the day"
And when you were done, this is what a cold storage looked like at the start of the 1940's!
And when you have all of the apples stored, you jump into your dandy automobile and head home for supper (as opposed to dinner). This picture added to give an indication of what year we're looking at.